Lance Bass Confirms Justin Timberlake & Jessica Biel Had Another Baby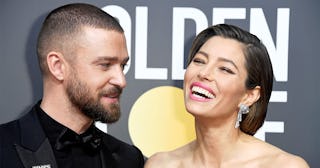 Frazer Harrison/Getty
Welp, it's official! Justin Timberlake and Jessica Biel have created another "cute" baby, says buddy Lance Bass
Rumors began circulating earlier this summer that Justin Timberlake and Jessica Biel had welcomed their second child — and now Timberlake's former *NSYNC bandmate and close friend Lance Bass has confirmed the news. In an interview with Entertainment Tonight on Friday, Bass spilled the baby beans when asked about his buddy's newborn.
"The baby is cute of course; it's Justin and Jessica!" he gushed of the couple's second child. In doing so, Bass also confirmed what we all knew would be true: Timberlake and Biel's new baby would be totally adorable, just like big brother Silas Randall, 5.
https://www.instagram.com/p/B9RvYSmBG9L/
If you were hoping Bass might let slip a few other details about the genetically blessed infant, well, keep hoping. He did reveal that he and the other *NSYNC members knew about the arrival "before anyone else did." However, he remained impressively tight-lipped regarding the baby's name… or anything else.
"[Justin and Jessica are] very, very happy," he told ET. But when asked about the baby's name, he added, "That's a good question, but there's no way. [Justin] would kill me!"
Bass isn't Timberlake's only friend who has confirmed the big baby news, either. Frequent collaborator Brian McKnight hinted as much to HollywoodLife all the way back in July. "I think if he's going to do music, he's going to make sure that that's secure, and then he'll bring us into his music. And being inspired! He just had a new baby. I think that's going to be really inspiring for him and he'll have some new music based on that, I'm sure," McKnight said.
Although Biel and Timberlake haven't yet addressed any of the rumors, they have discussed the possibility of expanding their family even further. Chatting with ET in 2018, Timberlake joked he wants "as many kids as we can."
In response, Biel hinted more babies were in their future — but she also kept it real. "You know, kids are amazing. They are really hard, but they are really amazing," she told the outlet. "I think it would be amazing to have a bigger family. I don't know if that is in the cards for us, we will see. But I am feeling him. I don't know what that means exactly, but I like his dedication!"
This article was originally published on