Justin Timberlake's Statement To Britney Spears Is Too Little, Too Late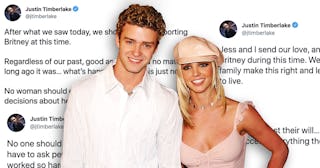 Jeff Kravitz/FilmMagic/Getty and Justin Timberlake/Twitter
In the hours after her devastating conservatorship hearing, Britney Spears' ex, Justin Timberlake, responded with a message of support
When they dated back in the late '90s and early aughts, Britney Spears and Justin Timberlake were a megawatt couple with endless worldwide attention and fanfare, something that has continued to link them together in the press for nearly two decades since.
As the general public reckons with the mistreatment by the media Spears has faced amid her ongoing conservatorship battle, the pop icon gave a devastating testimony into what her life has been like under the restraints of the conservatorship she's lived with since 2008.
In the hours after her emotional testimony, plenty of celebrities reacted to her sharing her story, including her famous ex. Timberlake shared a Twitter thread in which he noted that "we should all be supporting Britney at this time."
He conveniently included a nod to their "past, good and bad, and no matter how long ago it was," adding, "what's happening to her is just not right."
Addressing some of the most heartbreaking allegations made by Spears in the hearing, including that she's being forced to have an IUD to prevent pregnancy, he wrote, "No woman should ever be restricted from making decisions about her own body. No one should EVER be held against their will… or ever have to ask permission to access everything they've worked so hard for." He ended the thread with a message from himself and wife Jessica Biel, writing, "Jess and I send our love, and our absolute support to Britney during this time. We hope the courts, and her family make this right and let her live however she wants to live."
On its surface, the message is powerful and loving, especially since Timberlake has a global platform with millions of fans and followers. It would and should mean a lot coming from him as someone who once knew Spears and is also one of the most famous musicians in the world. But it's not an apology (though he did issue her an apology earlier this year after receiving more public scrutiny for the way he treated her in the past) and, frankly, it feels like a halfhearted attempt at saving face — after so many years of making her out to be the villain in their young romance.
As recently as 2018, Timberlake was making subtle digs at Spears in the press. When asked if he'd consider doing a Las Vegas residency (something Spears brought to the forefront for many pop acts when she started hers in 2013), he said that it feels like "planning for your retirement," adding, "The person who did Vegas better than anybody was Prince." (By the way, Prince was reportedly not a big fan of Timberlake's, but we digress.)
He also released multiple songs and music videos alluding to Spears' alleged infidelity, and even used a lookalike in the infamous "Cry Me a River" video. He spoke about her in interviews multiple times, bragging about their sex life even though she'd publicly proclaimed she wanted to remain a virgin until marriage — her absolute right, since whether or not she was having sex was literally nobody's business but her own.
Hopefully, Timberlake's statement indicates that he's done some reflection over the years about his own treatment of Spears and other women in his life (hey, Janet). His public behavior going forward will be the only true indicator of whether or not he's grown as a person. And yes, Spears deserves all of our support and love — here's hoping she feels it from Timberlake and from the millions of supporters she has around the world as she continues to fight for her well-deserved freedom.