Juvia's Place Makeup Is Now Available At Ulta
by Love Barnett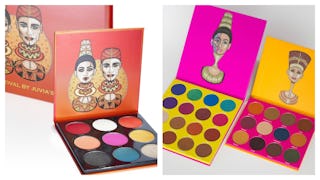 via Juvia's Place
Ladies, do you hear that? That is the sound of millions of happy makeup lovers screeching. We screech and squeal from joy and love, for the announcement that a beloved indie brand is making it big time FINALLY.
https://www.instagram.com/p/Bld2o6xHqHf/
Juvia's Place makeup is now available at Ulta online as of July 22, and will launch in stores in September. We could not be more thrilled!
Okay, well, TBH, we could be a little more thrilled, if they were also available at, you know, Target and Sephora as well. But baby steps, people. This is huge.
If you don't know about Juvia's Place, allow me to introduce you: Juvia's is one of the fastest growing black-owned cosmetics brands out there, specializing in highly pigmented shades especially for women of color. They are 100% cruelty free and *mostly vegan (details in their FAQs).
Juvia's owner is Nigerian-born Chichi Eburu, wife and mother of two, who launched her cosmetic company a little over three years ago, and maintains that her products were designed to look vibrant and bold on every skin tone.
Influencers and beauty bloggers across YouTube and Instagram rave about how highly pigmented these shadows are, and from personal experience, they are right on the money. Speaking of money, don't fret about your wallet when it comes to Juvia's. Although they can go toe-to-toe with the high-end brands like Huda, ABH, and others, Juvia's palettes range in price from $20-30 USD and last for-evaaahhhh.
For years now, they have been an Instagram hit with millions of followers, as people fell in love over and over with their bold pigments and buttery formulas, but they have remained an indie brand only available via direct orders from their website — until now.
Juvia's Place posted photos on their Instagram of their upcoming Afrique Eyeshadow Palette with the caption, "Super Excited to Announce Juvia's Place and @ultabeauty Have teamed up 😍😱😱. Juvia's Place products will now be available in 500 Ulta stores in September and Ulta Online July 22nd."
Their Afrique Collection officially launches the same day, and will include a liquid lipstick and two blushes. You can preorder it now on their website, or pick one up at Ulta after the launch.
In addition to their partnership with Ulta, they are also launching in the UK, so our friends across the pond can finally get their hands on it.
You can follow Juvia's Place for more exciting news and check out more of their product demos on their Facebook, Twitter, and Instagram.