Inflatable Costume May Have Spread COVID To 44 California ER Workers
by Julie Scagell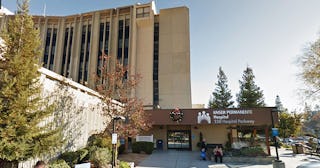 Google Maps
One person has died as a result of the outbreak
A California hospital is battling a coronavirus outbreak that's impacted at least 43 people in the emergency room and killed one. One possible source that's being considered is an inflatable Christmas tree costume worn in the emergency room over the holidays.
According to NBC Bay Area, the costume was worn by a hospital employee at Kaiser Permanente San Jose Medical Center who had the virus but was asymptomatic at the time he came into the hospital. It was powered by a fan that may have spread droplets in the room on Christmas Day. They described the costume as a Christmas tree, with a red nose and large eyes.
Twitter user Marianne Favro, a reporter with NBC Bay Area, posted a picture of the costume, writing, "This is the air powered costume an employee wore in the Emergency Dept.of Kaiser Permanente San Jose Medical Center Xmas day to spread cheer. Turns out employee unknowingly had covid, now 43 employees have covid. Kaiser investigating if costume blower helped spread the virus."
The New York Times reported that staffers who were present when the employee wore the costume began testing positive on Dec. 27. The hospital will not say if any patients were infected but have stated that air-powered costumes are now banned in the building.
One staff member who was working in the emergency room on Christmas Day has died as a result, the hospital said in a statement on Monday. While the exact cause of the outbreak is under investigation, the costume is "a likely source," it said.
"Any exposure, if it occurred, would have been completely innocent, and quite accidental, as the individual had no Covid symptoms and only sought to lift the spirits of those around them during what is a very stressful time," hospital spokeswoman, Irene Chavez, said in a statement.
She also said the the emergency department will be deep-cleaned and that employees will be offered free weekly testing.
Santa Clara County, where the hospital is located, currently has 691 patients hospitalized for COVID-19. It has just ten percent of ICU beds left available, including surge capacity, because of the increased number of cases in the area. There are two million people living in the county.
According to the Centers for Disease Control and Prevention, the virus is primarily spread through respiratory droplets and can "sometimes be spread by airborne transmission" of both larger droplets when people "cough, sneeze, sing, talk, or breathe." The costume's fan may have acted like an accelerant for those droplets, spreading them farther than normal.
"We are also moving quickly to test all emergency department employees and physicians for COVID-19," Chavez continued. "Employees confirmed to have COVID-19 or suspected of having COVID-19 due to symptoms will not come to work."
Information about COVID-19 is rapidly changing, and Scary Mommy is committed to providing the most recent data in our coverage. With news being updated so frequently, some of the information in this story may have changed after publication. For this reason, we are encouraging readers to use online resources from local public health departments, the Centers for Disease Control, and the World Health Organization to remain as informed as possible.