Kamala Harris Tells Her Niece She Can Be President In Sweet Video
by Madison Vanderberg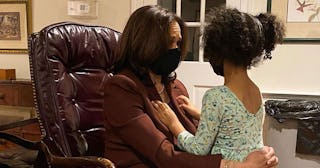 Meena Harris/Instagram
Kamala Harris shares a sweet moment with her grand-niece, telling her she could become president one day
Kamala Harris is a fantastic leader, senator, and potential first female Vice President of the United States, but she's also the world's greatest aunt. Harris's niece Meena Harris, a lawyer and author, has shot to internet prominence this year, mostly due to her fantastic social media presence and position in the Biden-Harris campaign. However, it's Meena's four-year-old daughter Amara who is going viral this time after Meena shared the sweetest exchange between Amara and her great-Aunt Kamala Harris.
On November 4, 2020, as the world nervously waited for Arizona (and Nevada… and Pennsylvania.. and Georgia) to slowly tally their votes, Meena provided us all with a palette cleanser. Meena posted an Instagram video of Kamala telling her grand-niece Amara that she could become president one day.
"I couldn't be president…" little Amara tells her great-aunt in the clip, to which Kamala says, "You could be president, but not right now. You have to be over the age of 35."
Meena captioned the video, "This conversation went on for like an hour."
Later on Twitter, Meena said that her daughter wants to be "both president and an astronaut" when she's older, and you can do both tiny queen!
Meena and her Aunt Kamala are so tight, they even share a birthday, and Meena's kids clearly adore their great-aunt. Here's a video of Meena's daughters seeing Kamala for the first time this week after not seeing her at all in 2020, and I don't know if it's the election stress or like, the thrill of seeing someone hug during a pandemic, but hoo boy, I am wrecked and watching this silly video on a loop.
https://www.instagram.com/p/CHG8ZPXp4ew/
The whole Harris fam is a force to be reckoned with and Meena actually wrote a children's book about her mom and her aunt. "Based on a true story from the childhood of Meena's aunt, Senator Kamala Harris, and mom, Maya Harris, Kamala and Maya's Big Idea is about two sisters working together to create change in their community," a synopsis for the book describes.
RELATED: 21 Black-Owned Brands And Businesses You Can Support Now — And Always
Anyways, I just hit that "follow" button because I'm going to need all the "Kamala the good aunt" content I can get right now.
This article was originally published on