Kangaroo Care Started Right After Birth Can Be Lifesaving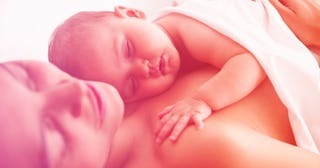 Scary Mommy and LWA/Getty
Eleven years ago I gave birth to a two pound baby girl. She was born nine weeks early in severe distress. I wasn't allowed to hold her when she was born. I wasn't allowed to hold her for the first few days of her life. Everyone—the NICU doctors and nurses—wanted to get her into my arms as soon as possible to start kangaroo care, but back then, as soon as possible meant once she was stable, according to World Health Organization (WHO) guidelines.
That might soon change. A new study published in the New England Journal of Medicine found that immediate kangaroo care, as opposed to once the baby is stable, "dramatically improves survival" for preterm or low birthweight babies. The change could save up to 150,000 more lives each year.
"When started at the soonest possible time, kangaroo mother care can save more lives, improve health outcomes for babies and ensures the constant presence of the mother with her sick baby," said Dr. Rajiv Bahl, Head of the Newborn Unit at WHO, and the coordinator of the study.
Kangaroo Care Is Skin-To-Skin Contact
"Kangaroo care" is the practice of holding your baby close to your chest to allow for skin-to-skin contact. The baby is usually wearing only a diaper and is placed directly on your skin. Often a blanket is then draped over you and your baby—hence the "kangaroo" part of the name.
Kangaroo care can be practiced by both parents. Moms (or dads) should plan to spend at least 60 minutes for each session, avoid wearing perfumes or lotions, and arguably most importantly, should put away their phones.
NICU parents know the overwhelming helplessness that comes with having a newborn in the NICU. Kangaroo care is an important and lovely way not just to bond, but to feel empowered and capable. To feel a little less helpless.
Kangaroo Care Has Both Emotional And Physical Benefits For Your Baby
Not only is kangaroo care an important bonding tool for new parents and their babies, but the practice has significant physical benefits. The Cleveland Clinic lists benefits that include improvements to a baby's breathing patterns, oxygen saturation levels, and heart rate. Additionally, skin-to-skin time can help your baby sleep, gain weight, cry less, and may help improve breastfeeding.
Many of these benefits seem to be linked to the way skin-to-skin contact stabilizes the heart and regulates the baby's temperature, which helps the baby sleep and conserve calories—important building blocks for growth and weight gain.
Kangaroo care even has benefits long-term. A 2016 study found that kangaroo care had "significant, long-lasting social and behavioral effects even twenty years later."
Kangaroo Care Is Beneficial To Parents, Too
When my daughter was in the NICU, I spent hours practicing kangaroo care. I remember the immediate effect it had on my entire nervous system. I could breathe easier. I could feel my blood temperature lowering and my heart rate slowing. That might have been largely in my imagination, but research has shown that parents can experience benefits from kangaroo care. According to the Cleveland Clinic, those benefits include bonding with your baby, increasing milk supply when breastfeeding, boosting confidence, and making you feel more grounded and in control.
New Research Shows Immediate Kangaroo Care Can Be Lifesaving
Approximately 3200 infants were included in the study, which was funded by the Bill and Melinda Gates Foundation. Half of the babies began kangaroo care as soon as possible after birth and received about 17 hours of skin-to-skin contact per day for the first three days. The other half of the babies started kangaroo care after they were stable. They received approximately 1.5 hours per day. (Both groups received about 19 hours per day thereafter). The study was ended early when the benefits of immediate kangaroo care became abundantly obvious.
The results were clear. Kangaroo care can reduce mortality among hospitalized infants who weigh less than 2.0 kg at birth by 40 percent. Immediate kangaroo care can further reduce mortality by another 25 percent, according to the new study. As mentioned above but worth repeating — that's 150,000 lives.
As if saving infants' lives isn't enough, immediate kangaroo care has even more benefits. It reduced infections and hypothermia among small infants and provided the infants with more opportunities to breastfeed.
This Research Could Revolutionize NICUs
Based on the encouraging results of this study, the WHO is considering revising its current recommendations for kangaroo care. However, to really make immediate kangaroo care possible, obstetric and neonatal departments will have to coordinate care for both mother and baby, particularly if the mother needs ongoing care post delivery. One option is to establish mother-newborn ICUs, which already exist in some countries.
Dr. Bjorn Westrup, of the Karolinska Institute, Sweden, and a technical expert for the study, champions this approach. He confirmed, "The best way to nurture the newly born low birth weight baby, including in high-income countries, is through ongoing skin-to-skin contact with the mother, in a mother-newborn couplet care unit that provides care and medical treatment for both."
Immediate kangaroo care is undoubtedly lifesaving. Making immediate kangaroo care a safe and available option to all NICU families is certainly worth the effort.