Kanye West Gifts Kim A Hologram Of Her Late Dad For Her Birthday
by Christina Marfice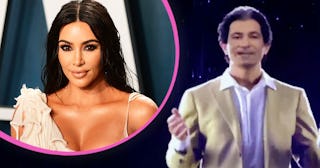 Ian West/PA Images/Getty and Kim Kadashian/Twitter
Kanye West's birthday gift to Kim was pretty out there, but also very sweet
Love them or hate them, there's one thing the Kardashians are really, really good at: Giving each other gifts. When you have virtually unlimited money, nothing is off the table, and it shows in the lavish gifts they give one another for holidays, anniversaries, and birthdays. This year was no exception — Kim just revealed the gift husband Kanye West gave her for her 40th birthday last week, and while it's definitely over-the-top, it's also very sweet and touching.
For her gift, West gave his wife a hologram of her late father, Robert Kardashian. For two minutes, the hologram spoke to her, sharing memories from her childhood and a sweet birthday message only a dad can give.
RELATED: 32 Creative Birthday Gifts For The Guy In Your Life Who's About To Turn 40
Kim shared a video of the hologram on her Instagram, and you're going to want to see this. It's pretty incredible.
"Happy birthday Kimberly!" the hologram began. "Look at you — you're 40 and all grown up. You look beautiful, just like when you were a little girl. I watch over you and your sisters and brother and kids every day."
What's really wild is the technology involved here. I mean, it looks like Robert Kardashian is in that room. It sounds like him. It gestures and laughs in what I can only imagine are accurate mannerisms, and we have to wonder how West even pulled this off. For anyone who's lost a loved one, a gift like this would be incredible.
"I am so proud of the woman that you've become, Kimberly," the hologram continued. "All of your hard work and the businesses you've built are incredible. But most impressive is your commitment to become a lawyer and carry on my legacy. It's a long road, but it's worth it. I'm with you every step of the way."
Of course, this was a gift from West, so it wasn't completely normal. The rapper obviously added his own touch (of his infamous ego), and it showed when the hologram congratulated Kim for marrying "the most, most, most, most genius man in the whole world, Kanye West." OK, sure.
But overall? This is a pretty sweet and touching gift, and it seems like the Kardashians (and many of their close friends) agree.
Who knows how any of them are going to top this gift, in sentiment or in spectacle, but we kind of can't wait to find out.
This article was originally published on