'She's Still My Wife': Kanye West Denies Seeing Kim Kardashian Divorce Papers
by Erica Gerald Mason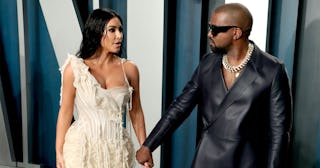 Matt Baron/Shutterstock
"We're not even divorced," West said
Kanye West is hoping to get back with his ex-wife, Kim Kardashian West. West appeared as a guest on the Drink Champs podcast Thursday, where he discussed Kardashian West, who filed for divorce earlier this year. West admitted on the program that he hopes the couple can reconcile.
West made a point to refer to Kardashian West as his wife, because as West explained, "'cause she's still my wife, ain't no paperwork." West then discussed the reality star's Saturday Night Live episode last month, where she joked during the opening monologue that she divorced West because of his "personality."
"SNL making my wife say 'I divorced him' on TV because they just wanted to get that bar off," West said. "And I ain't never even seen the papers, we're not even divorced."
"That ain't no joke to me," West added.
West's appearance on the Drink Champs podcast comes after Kardashian West was spotted at a theme park with SNL star Pete Davidson late last month. Davidson was famously engaged to pop star Ariana Grande and has dated actress Kate Beckinsale.
Pictures circulated of Kardashian West holding hands with Davidson as the pair rode a roller coaster; the snaps sparked rumors of a romance, and though a source said they are "just friends," People reports that the two stars do "have chemistry." The pair have also been spotted having dinner in New York.
To be fair to West, some Twitter users are just as confused by the pairing as he seems to be.
Another Twitter user was unsure if Kardashian West had ever heard of Staten Island before meeting Davidson.
"My kids want their parents to stay together," West explained. "I want … us to be together."
The former couple co-parent their kids: daughters North, 8, and Chicago, 3½, and sons Saint, 5½, and Psalm, 2.
According to BuzzFeed, West has also asked Kardashian West to scale down her dating efforts. West reportedly asked Kim to "'please refrain' from showing public displays of affection with anyone until their divorced is finalized." Seemingly undeterred by his recent public pairing with Irina Shayk, (who was previously married to actor Bradley Cooper), West reportedly brought the Lord into it. "[West] told her that it doesn't look good for their family and it doesn't look good for her, or in the 'eyes of God.'"
Kardashian West has not responded to West in public.