Kate Beckinsale Shares Pic Of 'Audience' That Gathered For Her Bikini Wax
by Julie Scagell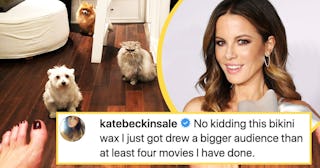 Kate Beckinsale/Instagram and Phillip Faraone/Getty
Beckinsale had quite the audience at her recent wax appointment
Actress Kate Beckinsale shared a very, um, up close and personal pic of herself after a recent bikini wax, but it was her caption that should win her an Oscar for Funniest Caption On Social Media…Ever.
"No kidding this bikini wax I just got drew a bigger audience than at least four movies I have done. Also my performance was described as 'shattering', 'visceral' and 'edge of the seat stuff'," she wrote on Instagram. "So I'm pleased."
The picture that went with the caption is quite possibly one of the funniest things I've ever seen. Her three animals seem to be in various stages of acceptance of what they've just witnessed. It's clear by the look on its face, the cat is not thrilled about the possibility of anything being shaved or waxed within its vicinity. I believe it's also judging her for conforming to the societal beauty standard of "less is more" in the nether region, but perhaps I'm reading too much into it.
Her pomeranian seems just a little too happy about the whole situation though it could just be frozen in fear that the waxer is coming for him or her next. The poor white pup is clearly disappointed there is less of his mom to love now. There's also a person in the background, either a supportive friend or the waxer admiring her work — it's unclear which.
Beckinsale gained attention after her film adaptation of William Shakespeare's Much Ado About Nothing in 1993, and went on to star in films including the blockbuster Pearl Harbor, Emma, Serendipity, and the Underworld series. Most recently, and apparently according to Beckinsale herself, she's starred in lesser-known films like Farming, The Only Living Boy in New York, and Jolt, which will be released sometime this year.
She was briefly married to director Len Wiseman and has a daughter, Lily, with Michael Sheen. She's also got a wicked sense of humor (obviously), saying once, "I try and take lots of vitamins and I don't drink. I do smoke, though, I'd be insufferable if I didn't smoke, you'd have to push me off a balcony I'd be so boring."
She's also included her pets in other posts, which are almost as funny as this one. It's clear she's an animal lover which makes her even more likable.
https://www.instagram.com/p/B8yJK-GFCdJ/
It's clear based on this one post alone that we should all have a friend like Beckinsale that keeps things real no matter what the situation.
This article was originally published on