Kate Was Actually The One Who Made Meghan Cry—Not The Opposite
by Christina Marfice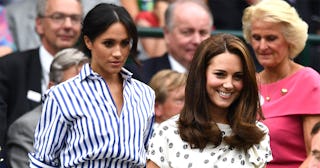 Clive Mason/Getty
Despite headlines saying Meghan made Kate Middleton cry, she just revealed it was actually the other way around
So many jaw-dropping things were revealed when Meghan Markle's two-hour tell-all with Oprah aired last night. And while the interview got more and more shocking as it went on, one of the very first things the pair discussed was a little bit of a bombshell for fans of the Royal Family: Meghan never made Duchess Kate cry. In fact, the opposite happened.
While Meghan was planning her wedding to Harry, you'll probably remember that the British press was waging an all-out war against her — invading her privacy, invoking racist attacks, and peddling this narrative that there was a good-versus-evil style battle brewing between Kate Middleton, Prince William's wife, and Meg, the incoming Duchess. One headline that made waves around the world was from a story that claimed that Meg and Kate disagreed over the bridesmaid dress that Princess Charlotte would wear in the wedding, and that Meg made Kate cry over their argument.
"The reverse happened," Meghan told Oprah early in her two-hour interview. "And I don't say that to be disparaging to anyone, because it was a really hard week of the wedding. And she was upset about something, but she owned it, and she apologized. And she brought me flowers and a note, apologizing. And she did what I would do if I knew that I hurt someone, right, to just take accountability for it."
Obviously, viewers had some feelings about this revelation. It would have been so easy for the Palace to correct that narrative, to even say that no one had cried. Instead, they let this vile rumor that vilified Meghan and victimized Kate persist unchecked.
Much of Meghan's interview was centered around the fact that she and Harry felt unsupported and unprotected by the Royal Family, and this is an excellent example of why they felt that way. As Meg put it, "They were willing to lie to protect other members of the family, but they weren't willing to tell the truth to protect me and my husband."
It's also impossible to ignore the not-so-subtly racist undertones of this story. Kate's white woman tears (which never even happened) dominated the headlines — alongside a picture of Meghan as a loud, angry Black woman. We now know that was so far from the truth of this story.
We can only hope now that this moment causes a huge reckoning for the British Royal Family, which has become too toxic even for some of its own members.