Kate Middleton Opens Up About Her Struggles With 'Mom Guilt' In Candid Interview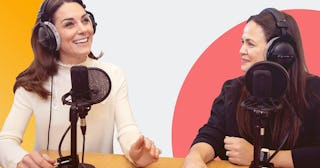 Giovanna Fletcher/Instagram
In a recent podcast interview, Middleton talks pregnancy, morning sickness, and those pesky carseats
For spectators, the moment Prince William and Kate Middleton — her wearing that baby blue, polka-dotted dress — stepped out of the Lindo Wing at St. Mary's Hospital in London in 2013 following the birth of their first child, Prince George, it was, in a word, iconic. But for Middleton, it was a nerve-racking moment she has yet to forget. "It was slightly terrifying, I'm not going to lie," she told the Happy Mum, Happy Baby podcast in a candid interview. And the revelations didn't stop there.
During the 34-minute interview, Middleton opened up to podcast host Giovanna Fletcher about morning sickness, how she "'definitely would have done things differently" with her pregnancies, and the "mom guilt" she feels "all the time."
"I think anyone who doesn't … is actually lying," the mom of three — Prince George, 6, Princess Charlotte, 4 and Prince Louis, 1 — says, adding, "You're always sort of questioning your own decisions and your own judgments and things like that. And I think that starts from the moment you have a baby."
Middleton also emphasized the important of children's early years, saying that "the emotional well-being of the mother directly impacts the baby [she's] growing."
"I was a lot more aware of it third time around than I was first time around," she added.
The interview took place around the time of the launch of the Duchess' new initiative, the "5 Big Questions on the Under 5s" survey, which helps "create a national conversation and bring about positive, lasting change for generations to come."
"I think, ultimately, if you look at who's caring and looking after and nurturing children in the most vital period, from pregnancy all the way to the age of five, you know parents and carers are right at the heart of that, and families are right at the heart of that, and although I've spoken to the scientists and the service providers, it's so important to listen to families. What is it that they aspire to? What are their challenges? It's going to take a long time; I'm talking about a generational change. But, hopefully, this is the first small step, to start a conversation around the importance of early childhood development. It's not just about happy, healthy children. This is for lifelong consequences and outcomes," Middleton says.
When Middleton and Prince William were caring for their first-born, Prince George, they were full of jitters, nerves, and excitement.
"We were like, 'What do we do?… in a swaddle?' 'How's this supposed to work?'" Middleton says of putting George in a carseat in their vehicle for the first time. "We'd even tried to practice with a little baby, like a little doll, at home but you know it just never works out the way you planned it so it was quite hard to do that on the world's stage, but no, he did a very good job."
The Duchess also opened up hyperemesis gravidarum, a rare pregnancy complication from which she suffered. Symptoms include nausea, vomiting, weight loss, and, for some, dehydration.
"I'm not the happiest of pregnant people," Middleton says, adding, "Lots of people have it far, far worse, but it was definitely a challenge … not just for me, but also for your loved ones around you. … [Prince William] didn't feel like he could do much to help, and you know it's hard for everyone to see suffering without actually being able to do anything about it."
The entire interview is a must-listen because, as Fletcher puts it, Middleton's candidness was honest, articulate, intelligent — and entirely unexpected.
"I love hearing … how playful she is as well when she's talking about her own kids. It's a very unique position to be in when raising kids… The grassroots of it is we are all doing the same thing, we're all having sleepless nights, going through potty training or whatever it is… and I think having the Duchess on really highlights that," Fletcher says.
We, for one, can't get enough.