Katherine Heigl Addresses Past Remarks On 'Grey's' Working Conditions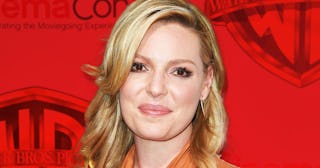 Scary Mommy and ANGELA WEISS/Getty
Katherine Heigl was deemed "difficult" 10 years ago for calling out "cruel" working conditions on the set of "Grey's Anatomy" and now, she's opening up about it
You may recall about 12 years ago when Grey's Anatomy actress Katherine Heigl was all over entertainment news for being "difficult," and in retrospect, she was um, not. Heigl spoke up and said some things that got her unfairly labeled at the time when all she was trying to do is stand up for herself and the crew on set but now, she's "aged out of giving a shit" and is opening up once again to defend film crews and the conditions they're forced to work under.
Heigl's recent post is in support of the IATSE strike, which has the actress and other famous names uniting to fight for fair working conditions for film crews.
Heigl begins by sharing what the crew on her film and television sets has always meant to her as someone who has spent the last 31 years in the industry. "I grew up on film sets and the crews I've always been surrounded by have been a kind of family to me," she writes.
She notes all the ways, big and small, that a person from a crew has made an impact on her life in the last few decades. "I've had AD's and PA's go out of their way to make me smile or laugh or relieve some of the tension and stress from long hours on set. I've had transportation drivers who have told me their stories and I them. I've celebrated life's big and small milestones with my crews. First real love. Marriage. Babies. Turning 21. Turning 30. Turning 40. The crews I've worked with all these many many years have been just as instrumental in making me who I am as anything else lasting and important in my life."
And that's why Heigl is so fierce in standing up for them now.
"Some of you may remember over ten years ago I was very vocal about the absurdity of the working hours crews and actors were being forced into by production," she continues. "Even Diane Sawyer interviewed me and not so kindly informed me 'no one feels sorry for you.' I very publicly and for many many years after got my ass kicked for speaking up."
"We are making entertainment," she continued in the comments. "We are not solving world hunger or curing cancer. We are telling stories. When production plows into hour 14 and beyond they are asking our crews to drive themselves home bone tired."
Heigl points out the real dangers of a crew working longer hours. "The number of people who have fallen asleep at the wheel is staggering," she wrote. "The number of accidents that happen on set due to exhaustion are shocking. Illness both mental and physical is off the charts. There is nothing glamorous or sexy about working past the point of exhaustion."
She acknowledges the differences between when she first opened up years ago — and now. "When I first spoke up I was speaking on behalf of myself and my crew on Grey's," she said. "Today things are a little different for me. I am in the fortunate position of being able to say no. To turn down a job if it requires more than I can bear. And in all honesty…I've kind of aged out of giving a shit if I piss people off by creating boundaries that protect my health, sanity and work."
Heigl is referring to comments she made during a 2009 appearance on The Late Show With David Letterman about working conditions on Grey's Anatomy. She told Letterman, "Our first day back was Wednesday. It was — I'm going to keep saying this because I hope it embarrasses them — a 17-hour day, which I think is cruel and mean."
But now, she's unapologetically using her voice to advocate for better working conditions for the hard-working people who have meant so much to her during her career. "So this post is not for me. It is for the crew. It is for my family from another mother. It is for the champions and support systems and talented bad asses that I have the privilege of working with. I stand with IATSE. It is time for reasonable and fair work conditions, wages and hours to be more than just a priority they need to be the norm. Period. To all the crews on all the sets all over this great big world of ours. I support you. I stand with you. I thank you. Not one show. Not one movie. Can exist without you."