Kathryn Hahn Is Getting A 'WandaVision' Spin-Off & We Can't Wait
by Kristina Johnson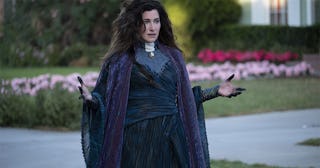 Disney+
It was Agatha all along!
Kathryn Hahn stole the show as Agatha Harkness on WandaVision, and now she's reportedly getting a show of her own. Variety is reporting that Marvel Studios is developing a dark comedy for Disney+ with the actress at the center. Um, yes please!
Hahn's role as the witch next door on WandaVision was a breakout success, which is to say the internet went absolutely wild for her. Not only did it spawn an amazing meme (which you've definitely seen — it features what has to be the world's largest wink), it also gave Hahn an Emmy-winning song in "Agatha All Along" — the show-stopping musical number she preforms when (Spoiler Alert!) it's revealed she's not just a quirky neighborhood pal after all.
Given the viral acclaim the show won Hahn (and coupled with the fact that it seems that anyone who's ever appeared on screen in a Marvel production for more than 12 seconds is getting their own series), a spin-off makes total sense. And maybe it'll earn her the actress a little more street-cred in the eyes of her two children, who, like kids everywhere, still find their famous mama just a little bit cringe-worthy.
"When I was practicing my moves for this particular show, I mean my children came in and saw me practicing, and it was as if they had seen me just get out of the shower. They literally were like, 'Oh, my God. Mom!' Like I was practicing my witch moves, and they were so embarrassed," Hahn said in an appearance on Late Night with Seth Meyers earlier this year. "I'm just so glad that now they're suspiciously a little bit nicer to me. So I know that it's been landing a little cooler than I had thought."
Hahn has been acting steadily on TV and in film for years, but she's definitely having a bit of a moment lately. Showtime just revealed the actress nabbed the lead role in an upcoming limited series on the legendary comedienne Joan Rivers. There's no doubt she has both the comedic timing and the dramatic chops to pull it off.
Both of Hahn's upcoming projects sound absolutely amazing — and we seriously can't wait to see her back on our screens.