30+ Wise Keanu Reeves Quotes To Celebrate The Keanussance We're Living In
by Team Scary Mommy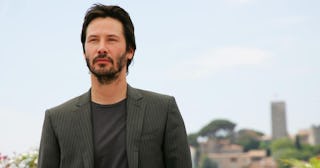 Eddy LEMAISTRE/ Getty
To the hoards of brand new Keanu Reeves fans who just realized Reeves is a multi-faceted actor, producer, and musician: Welcome! And while all new stans are welcome in the Reeves fan club, make no mistake about it, his longtime fans have always been there. Whether it's Reeves' quiet but thoughtful demeanor, his avoidance of celebrity culture, or perhaps because he's quietly hilarious, Reeves has been a pop culture icon for decades.
Whatever your reasons for loving him and enjoying his resurgence in popularity, or Keanussance, the man is a national treasure. Knowing his life story, with all it's complexities and tragedies will make you rethink how you view his ideas on grief and mourning. Which is why we've gone ahead and collected the most meaningful Reeves quotes about life, love, loss, and success.
1. Reporter: "You're having somewhat of a Keanussance; a revival. I just wondered how you felt about that revival." Reeves: "A revival? Well, I'm glad to be here, and I'm glad to be having a revival. And thank you." 2. "Grief changes shape, but it never ends." 3. "It's fun to be hopelessly in love. It's dangerous, but it's fun." 4. "It's always wonderful to get to know women, with the mystery and the joy and the depth. If you can make a woman laugh, you're seeing the most beautiful thing on God's Earth." 5. "When I don't feel free and can't do what I want I just react. I go against it." 6. "The simple act of paying attention can take you a long way." 7. "I believe in love at first sight. You want that connection, and then you want some problems." 8. "Falling in love and having a relationship are two different things." 9. "Art is about trying to find the good in people and making the world a more compassionate place." 10. "Fame is drag. The paparazzi culture is more pervasive than it used to be. On the positive side, it's nice not to have to worry about bills."
11. "I'm a meathead. I can't help it, man. You've got smart people and you've got dumb people." 12. "When the people you love are gone, you're alone."
13. "Mortality is very different when you're 20 to when you're 50."
14. "Luxury is the opportunity to experience quality, be it a place, a person or an object." 15. "Money doesn't mean anything to me. I've made a lot of money, but I want to enjoy lie and not stress myself building my bank account. I give lots away and live simply, mostly out of a suitcase in hotels. We all know that good health is much more important." 16. "You have to change your life if you're not happy, and wake up if things aren't going the way you want." 17. "Multi-culture is the real culture of the world – the pure race doesn't exist." 18. "The whole aspect of cinema and film festivals should be a moment to come together and celebrate art and humanity. It would be a shame if there was such a divide." 19. "I've been pleased to work with so many wonderful stars through the years. This has been an amazing journey. I hope it continues." 20. "Here comes 40. I'm feeling my age and I've ordered the Ferrari. I'm going to get the whole mid-life crisis package." 21. "I mean, if you didn't get it or if you didn't feel like you enjoyed it, sometimes that experience can change."
22. "If you have been brutally broken but still have the courage to be gentle to other living beings, then you're a badass with a heart of an angel."
23. "Every struggle in your life has shaped you into the person you are today. Be thankful for the hard times, they can only make you stronger."
24. "When you truly understand karma then you realize you are responsible for everything in your life. It is incredibly empowering to know that your future is in your hands."
25. "I cried over beauty, I cried over pain, and the other time I cried because I felt nothing. I can't help it. I'm just a cliché of myself."
26. "Someone told me the other day that he felt bad for single people because they are lonely all the time. I told him that's not true I'm single and I don't feel lonely. I take myself out to eat, I buy myself clothes. I have great times by myself. Once you know how to take care of yourself company becomes an option and not a necessity."
27. "I just felt that if I went into Speed 2, I just… wouldn't have come up out of the water."
28. "People were saying that David Geffen and I had gotten married and it just blew me away. Not that they thought I was gay, but that they thought I could land a guy that hot."
Keanu Reeves Facts
29. When Reeves first started auditioning in Los Angeles he was point blank told his first name was hard to pronounce. This led the Hawaiian-born actor to start using pseudonyms like Chuck Spadina. Thankfully, he returned to Keanu before he made it big.
30. On at least two occasions, Reeves has given up his salary so production could afford to hire other actors. In one case, he deferred $2 million so Al Pacino could be cast for A Devil's Advocate.
31. The actor claimed he was tricked into playing a serial killer in The Watcher after a friend forged his signature on a contract. "I couldn't prove he did and I didn't want to get sued, so I had no other choice but to do the film," he told The Guardian after the fact. Worse part, the contract stipulated that he couldn't reveal the deceit for a full year after the movie's release. Reeves added to the Guardian, "If it's September that means it's been a year, so I can finally talk."
32. He's a published poet. We bet you didn't know that about him but somehow it seems so on brand. In 2011, Reeves teamed up with visual artist Alexandra Grant to publish Ode to Happiness, an illustrated book featuring Reeve's poetry. They then went on to work together for 2016's Shadows. So it should have not been surprising when the two stepped out together as a couple in 2019.
This article was originally published on