My Brother Died, And My Unrelenting Grief Took A Toll On My Marriage
by Renee Plant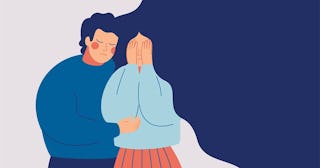 Ponomariova_Maria/Getty
I've always admired people who leave their phones on in the middle of the night, but as an exhausted mom, I couldn't fathom the prospect of another potential sleep interruption. After all, late-night texts about a friend's relationship drama or wardrobe malfunction certainly came at a higher frequency than any sort of real emergency. That said, the night my brother died, my phone was on silent.
To my fellow parents who also switch your ringers off before hitting the sheets: fear not. Our guts are far more reliable than any phone feature. When I jolted awake around midnight that evening, I sensed something was amiss. I dialed my brother's number, and soon after getting his voicemail, I received the call that would confirm my greatest fear.
I glanced over at my husband, who was fast asleep, blissfully unaware of what was unfolding around him. I granted him a bit more sleep while I collected myself, knowing the next words I spoke to him would come as a deep, painful shock. What I didn't know was how significantly those words, and this event, would alter our marriage.
Losing a family member is always devastating, but to lose a sibling unexpectedly was particularly jarring, and immediately had me questioning the mortality of everyone I loved. Life suddenly seemed fragile and impermanent. Trite sayings that once only seemed to exist for the sake of meme sharing now resonated on a personal level, and I fully understood the importance of living each day like it's your last.
Suddenly, as my husband walked out the door to head to work in the morning, I envisioned his commute ending in tragedy. When I dropped my kids off at school, the unspeakable, worst-case scenario ran through my head. I was living with crippling anxiety, and the people who once assuaged my fears were now the driving source of my apprehension.
In the days that followed my brother's death, my husband was my saving grace. He took the kids off my hands when he saw the pain stealing the smile from my face, and he allowed me to rest when I felt I could no longer physically stand. But over time, as the initial shock wore off and it became clear the anguish remained unrelenting, he inquired as to whether this was the new reality of our relationship.
Would the wife he once knew ever return, or would this grief-stricken zombie simply continue to roam the halls of our home, eyeballing the clock until the hands finally waved her back to bed? Would our marriage eventually rebound from this blow, or would grief take its toll until we were past the point of no return?
When we take our wedding vows, we promise to love our spouse in good times and in bad, but we're so eager to accept the terms and conditions that we often forget to read the fine print. After all, what constitutes "bad times," anyway? Financial hardship, or problems with the in-laws? Surely, as we gaze at our lover and envision our lives together, we aren't imagining we'll endure a devastating event that will change them forever in the blink of an eye.
Yet, time has a way of moving along even when your paralyzing grief tricks you into thinking it has stood still. The minutes on the clock continued ticking away, and the days on the calendar turned into months, finally bringing us into a new year. Holidays passed, birthdays were celebrated, and the number of tears shed were eventually outweighed by laughter brought forth by the everyday joys that had been temporarily masked.
Losing my brother was the hardest situation I've had to face in my life thus far, but as the grief lifted, the realization that my marriage was stronger than I'd previously known began to shine through.
It's unrealistic to think your relationship will always be filled with the same bright sunshine that blurred your vision of reality in the beginning. Dark clouds will occasionally hover, and unfortunately, a disaster may one day rock the structure of your partnership. However, if your love is built on a solid foundation, even the strongest storm won't knock you down.
With some TLC, the cracks can be repaired.
This article was originally published on