Claudia Conway Is Sharing More Coronavirus Intel Than Our Actual Government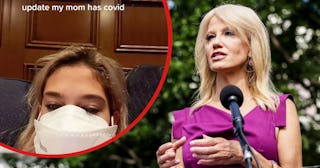 ClaudiaConway/TikTok and Samuel Corum/Getty
The teen spilled the tea on a few White House people
After announcing she had contracted COVID-19 like many others in President Trump's administration, it seemed like Kellyanne Conway's week couldn't get much worse. That is, until her 15-year-old daughter stepped in and said, "Hold my (non-alcoholic) beer."
As the world receives conflicting information about Trump's health status since his coronavirus diagnosis and stay at Walter Reed Medical Center, it seems we have some inside intel from none other than Claudia Conway, Kellyanne's progressive teen daughter.
Claudia has recently taken to social media to share with her friends (and basically the entire world) the real juice on Trump's health. She posted on TikTok Oct. 5, "guys lmao he's not doing 'better'," and "he is so ridiculous. apparently he is doing badly lol and they are doing what they can to stabilize him."
Claudia also broke the news that Kellyanne had COVID on the social media platform as well, showing her mom trying to police what the teen said and also video of them arguing. Both she and her father, George, contracted COVID-19 from Kellyanne. She posted that her mom told her she was negative when, in fact, she was positive.
When Kellyanne saw the video, she demanded her daughter set the record straight.
"Little clarification from my previous posts," Claudia wrote. "My mother claims that she did not lie to me. she had three tests done. first negative, second two positive. we were not in communication. i misinterpreted it," while Kellyanne can be heard in the background screaming, saying, "Do it now. You say, 'Correction, my mom had three tests,'" she said. "You caused so much disruption. You lied about your fucking mother about COVID? About COVID?!"
Many jumped on Twitter to offer their support of Claudia and were very much here for her insights:
Last month, Conway announced she would be leaving the White House to concentrate on family. In speaking about her husband, George, she said, "We disagree about plenty but we are united on what matters most: the kids. Our four children are teens and 'tweens starting a new academic year, in middle school and high school, remotely from home for at least a few months. As millions of parents nationwide know, kids 'doing school from home' requires a level of attention and vigilance that is as unusual as these times."
For what it's worth, Claudia announced in August on Twitter that she was seeking emancipation from her parents, citing "years of childhood trauma and abuse." She also said she was taking a break from Twitter.
For her part, Kellyanne also took to social media to react to those on Twitter calling her daughter a hero of our time. "My daughter, Claudia, is beautiful & brilliant. She has access to top doctors & health care & lives comfortably," she tweeted. "Like all of you, she speculates on social media. Yet she's 15. You are adults. We have COVID, but it's clear who's really sick."