Stormi Has 'Biggest Crush' On Kendall's Boyfriend And We're Dying Of Cuteness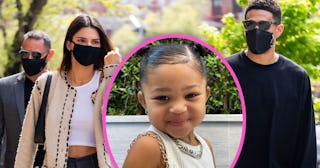 Gotham/Getty and Kylie Jenner/Instagram
Jenner spoke about her beef with the adorable toddler on The Tonight Show
Toddlers, amirite? They steal your fries off of your plate and your man right from under your nose. The pint-sized balls of cuteness will stop at nothing in their quest for world domination, something Kendall Jenner recently discovered.
"I'm, like, jealous sometimes!" Kendall Jenner jokes on The Tonight Show about niece Stormi's "amazing" friendship with her boyfriend, NBA player (and recent gold medalist) Devin Booker.
Kendall went on to elaborate about how Booker is close with Kardashian Kids. "He loves them," Jenner said. "Him and Stormi have an amazing relationship. She has the biggest crush on him, and I'm, like, jealous sometimes. I'm like, 'Stop. Can you guys not?' "
Poor Jenner. As those of us who had to watch as a tiny person who can't go to sleep without a bedtime story steals the hearts of someone we held near and dear to us…we can relate. One can't help but imagine Jenner thinking, "You already have a princess coach and a school bus, why do you need my man, too?" And of course, adorable Stormi is literally floating her way through life (in a mermaid tail, no less!) during her doting auntie's tumultuous time.
https://www.instagram.com/p/CSfL3-Cp873/
There's something about a toddler's wide-eyed optimism and incandescent joy when happy, isn't it? There's also something a bit disconcerting, too…. right? Like, we should be glad our partners aren't holding state secrets or launch codes, because they would give it up in a heartbeat, if it meant keeping a smile on the little one's face.
Up until now, Jenner and Stormi seemed to have a wonderful relationship.
As beautiful and lovely as she seems, little Stormi has the security and confidence that only a toddler who knows someone else will tie their shoes for them can have.
As part of her appearance on The Tonight Show, Jenner told host Jimmy Fallon about learning of sister Kylie Jenner's pregnancy news (she's expecting a second baby with rapper Travis Scott), as well as whether she's a good babysitter for her siblings' children.
"I'm alright. I always wanna be the 'cool aunt' and liked, I guess, by all of them," Kendall said.
"I have a lot of them," she said of her 18 – going on 20 – nieces and nephews. "But it's fun. It's really fun. I try to be chill — I stress about enough already."
As for Stormi and Devin's adorable little friendship, let's send our condolences and thoughts and prayers to Jenner: she's going through a difficult time right now… her niece stole her man.