Inflatable Pools For Moms, Because We're Adults And We Do What We Want
by Thea Glassman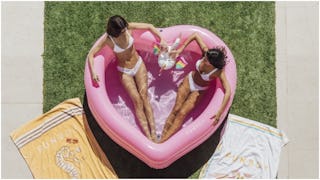 Image via Funboy
These grown-up kiddie floats will give you your best, booziest summer yet
Summer is officially here, which means you should probably be in a bathing suit, drinking something frozen and alcoholic right now. If you want a little something special to spice up the warm months, I'd like to point your attention directly to a new line of luxury adult pool floats and the cutest grownup lady kiddie pool you've ever seen. Warning: they're very large, very pink, and very, very extra. But, also, haven't you always wanted to ride on an inflatable rainbow? Yup, thought so.
First up, we've got this ginormous pink heart that seats two ($149). The bottle of rosé and whimsical seahorse towels are sadly not included, but should probably be mandatory with purchase. If you're going to buy an oversized, bright pink, inflatable heart, you might as well do it right. Preferably while pleasantly tipsy. How much better is this than a Paw Patrol kiddie pool? So much better.
Next, we've got a Convertible car-shaped pool float ($128), which literally looks exactly like Barbie's dream car. It inflates in two minutes, features a huge oversized front for stashing speakers, and has built-in cupholders. C'monnnn Barbie, let's go party.
The best part about this enormous inflatable jet ski ($99.00) is that you don't have to have a single athletic bone in your body to enjoy the ride. None whatsoever. You can just float merrily along on this very low risk, stress-free ride. Also, please feel zero pressure to pose on your new ski like the model below. Just a low-key selfie will suffice.
You are a queen. Your friends are probably queens. You should all float on a massive royal crown ($269) together and have a (guilt-free) discussion about Prince Harry and Meghan Markle's relationship. This bad boy fits five people, features five queenly backrests, four cup holders, and a mesh foot bath to keep you nice and cool.
Now, for the pièce de résistance. A literal rainbow that you can float on ($49.00). This one goes out to all the people who want to have their most whimsical summer yet and also have zero interest in doling out hundreds of dollars on inflatable objects. Right there with you.
Now, go find the nearest body of water and get your float on. (Almost) no one will judge you for taking up more room at the community pool with your cute new rainbow.
This article was originally published on