Kids Give Cello Concert From Their Porch For Their Self-Isolated Elderly Neighbor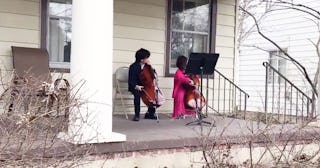 JMBorchardt/Twitter
These two Ohio kids putting on a cello concert for their self-quarantined elderly neighbor is what you need to see today
As the coronavirus continues its deadly spread around the globe, there's no denying things are feeling a little bleak. In more and more countries, states, and cities, people are being told to practice social distancing, which means forgoing all but the most necessary outings, and giving up gatherings of any kind. While it's the best tool we have to fight against the spread of coronavirus, there's no denying that social distancing can feel pretty lonely and isolating. To give you a little hope this morning, though, there are stories coming from all over the world of the ways people are looking out for their friends and neighbors — from a distance — like these two Ohio kids who gave their neighbors a cello concert from their front porch.
The kids are unnamed, but a video of their cello performance is going viral on Twitter. The concert was put on from the safe distance of the kids' own front porch for all their neighbors to enjoy, but they planned it for one neighbor in particular: an elderly woman across the street who is self-isolating to protect herself from the coronavirus. You can hear her cheering at the end of the video, shouting "Hooray!" for the kids' performance, and it's just one of the most wholesome things we've seen during these dark times.
What makes this entire situation so much better is the kids clearly dressed in their concert best for this impromptu outdoor performance — the little boy is dressed in a suit, and the little girl is wearing a pink gown with a matching jacket. They're taking this cello concert they're performing for their neighbors as seriously as if they were playing in some grand concert hall, and we're so here for it. So is the internet.
RELATED: 10 Exercise Routines For Seniors That Improve Strength And Balance
Ever since people started having to quarantine themselves to slow the virus's spread, we've been hearing stories like this one from all over the world. People in Italy have been holding concerts and flash mobs from their windows and balconies to keep spirits up and connect with their neighbors. Celebrities are giving Instagram concerts. A person trainer in Spain held a workout class from his rooftop so neighbors could work out with him from their balconies.
The only way we're going to get through this is if we keep looking out for one another. These kids and their cellos are an example for us all.
This article was originally published on