Kim Kardashian Reveals First Photo Of Baby Boy Psalm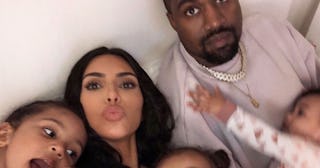 Kim Kardashian/Instagram
Kim finally let us see sweet Psalm's face in her latest Instagram post
Kim Kardashian shared that her fourth child with husband Kanye West was born last month. Since then, we've only seen a small glimpse of baby boy Psalm Ye in his bassinet, but now, she's showing the world his ridiculously sweet face.
Kardashian took to Instagram to share a close-up photo of her newest addition, and let me tell you, it did not disappoint. He's simply cute as can be.
Those baby lips. That soft hair. I do believe my ovaries just had a moment. He's perfection.
She first told us his name and gave us a first look at the little guy a few days after his birth. The reality star and business mogul shared a text from West noting how very blessed they are along with a photo of a sleeping Psalm in his bassinet.
In typical Kim fashion, she waited a little while before sharing her new baby with the world. Her third child, baby girl Chicago, made her debut on Kim's Instagram over a month after her birth (again, well worth the wait).
We love when Kardashian shares photos of the whole fam, which we pretty much wish happened every day.
But perhaps no Kardashian West family photo can ever compete with this gem from a few months after Chicago was born. That was when Kim fully realized the total pain and torture of trying to get three small children to cooperate for literally one halfway decent photo. "I don't think you really understand how hard it is to take a good family pic. This was all we got before all three kids started crying. I think I cried too," she wrote. We extremely feel you here, Kim.
Now that she and West are parents to four little ones, we can only imagine how wild the family photos are about to get. We also know that they wouldn't change that chaos for the whole entire world.
This article was originally published on