Kim Kardashian Reveals 'Big Fight' With Kanye Over North Wearing Makeup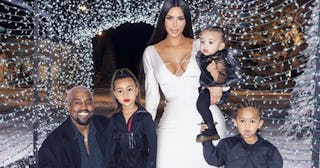 Kim Kardashian West/Instagram
Kim Kardashian occasionally let her six-year-old daughter North West wear pigmented makeup, but Kanye West recently put an end to it
At a recent event at Ulta to promote her KKW Beauty line, Kim Kardashian told reporters about a recent fight that divided her home. Kim and her husband, Kanye West, could not agree on whether or not their six-year-old daughter, North West, was allowed to wear makeup or not.
RELATED: The Best Play Makeup Sets And Toys For Kids Who Are Too Young For The Real Thing
To us pedestrians, that feels like a no-brainer. Hold off on the makeup, sure. But when you think about the fact that North's mom's empire is literally based around makeup — it gets a little trickier. Little kids love to watch their moms put on makeup and mimic them, so it's only natural that North would want to emulate her mommy.
"North is trying to get in on the makeup but she's being blocked heavily because her dad has stopped all makeup for her until she is a teenager," Kim told E! News. "It's a big discussion, a big fight in the household right now but it is what's best."
Kim had previously allowed North to wear makeup in the past, and had been mommy-shamed for it several times.
"I'd let her wear — you know, she has a little red for Christmas — I'd let her wear a red lip, or I'd let her do one pop of something," Kim said at a different KKW Beauty event (via Buzzfeed News). "I'd let her, if she's wearing a black dress, a black lip. So I kind of got in trouble for that."
Kim now says she came around to see her husband's point of view and now North can't wear makeup until she's a teenager.
"I think as a parent you just learn and figure it out as you go and we realized we didn't really want her to wear makeup at a young age," Kim added.
That is the million-dollar sentence right there: "As a parent you just learn and figure it out as you go." So much of mommy-shaming is wrapped up in the idea that moms are expected to be these fault-free robots. Kim let her daughter wear makeup, her husband was like, "I dunno how I feel about that," they had a discussion, they made a new rule. Kim is no less of a mom because it took the family a moment to troubleshoot.
However, to further complicate things, Kanye's new stance on makeup seems to be coupled with his newfound conservatism. Kanye recently tried to keep Kim from wearing a sexy dress to the Met Gala, which felt oppressive, and in a new interview with Zane Lowe for Beats 1 (via E! News), Kanye said his daughter can't wear crop-tops anymore, now that he's discovered his Christian faith.
"I don't think North should wear crop tops just because I had her wearing a slip dress when she was two-years-old," Kanye said. "I think and feel differently now, now that I'm Christian."
Whether you're Kim and Kanye fighting over a red lip at Christmas or your own daughter's full-face of makeup for a dance recital — it's interesting to listen in on Kim and Kanye's family debate because it's a conversation that most families will have at some point with their daughters.
This article was originally published on