Kim Kardashian Reveals Miscarriage Scare While Pregnant With North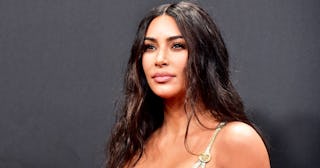 Rodin Eckenroth/Getty
She experienced heavy bleeding and didn't hear a heartbeat
Kim Kardashian is now a happy, proud mother of four — but that road was far from easy for the reality star. She's opened up about her struggles with fertility before, and has always been candid about the fact that two of her children were born via surrogate. But now she's opening up about the terrifying ordeal she endured while pregnant with her first child, North.
On the podcast "All Fair," Kardashian revealed that right before she started filming Kourtney and Kim Take Miami, she went to a fertility doctor and found out her egg count was incredibly low. She admits she was "freaked out" and decided to get off birth control for two months while she shot the show. The next month, in Miami, she found out she was pregnant. She was still legally married to Kris Humphries at this time, but had been in a relationship with her now-husband Kanye West for seven months.
"At the time, I didn't know, were we gonna get married? Were we gonna have this baby? It was all new territory to me and I was so scared and literally, I thought I had a miscarriage because I was really heavy bleeding and in so much pain in Miami," she reveals. "I went in because you have to go and do a D&C to clean out a miscarriage. It was Thanksgiving morning and my doctor said, 'Come in in the morning and we'll do it Thanksgiving night so no one will see you.' I was so worried people would find out, it was the first time I ever was pregnant. I was so nervous."
She said when they did an ultrasound, there was no heartbeat detected, so the doctor informed her she did have a miscarriage. "And then Thanksgiving morning I came in to do it and he said, 'There's a heartbeat,' and I was like, 'Oh, my God. This is a sign, it's Thanksgiving morning.' So we ended up, obviously, having North."
When she delivered North the following summer, she was six weeks early and only weighed a little over four pounds. Kardashian learned she had a condition called "placenta acreta," which means the placenta grows inside the uterus. It's extremely dangerous to the mother, and can be life-threatening. The delivery was traumatic for Kardashian, and she struggled to conceive her second child, Saint, and ended up using an implanted embryo.
"It's honestly what people would die from in childbirth, so you have to get the placenta out within a certain amount of time and you just can internally bleed. So, there's no choice — this is so graphic and gross — but he had to literally cut the placenta off with his hands, with his fingernails, inside of you. And it left a hole in my uterus, and so that muscle doesn't grow back. So I could not get pregnant with Saint."
Her third and fourth children, Chicago and Psalm, were delivered via surrogate in 2018 and 2019. Though Kardashian's bleeding while pregnant with North was likely due to her uncommon diagnosis, is not uncommon to bleed heavily during early pregnancy.
Implantation bleeding can be as light as a few streaks of blood, or it can look like a full period — which is what happened to me when I was pregnant with my second child last year. I had already suffered a miscarriage prior to that, so the panicked feeling of "am I having a miscarriage?" and seeing a fair amount of blood is extremely stressful. It's emotional torture, but one that many women can relate to — which is why it's important that people like Kardashian share their stories. It's valuable to all of us.
This article was originally published on