Kim Kardashian On David Letterman's Netflix Show May Surprise You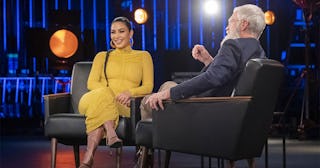 ADAM ROSE/NETFLIX
I wasn't a fan of The Kardashians. There, I said it. (Please don't angry-tweet me.) Their lives are nothing like mine. I know why people watch them. There's a thrill in observing their lives play out on television, from the comfort of your own home. Reality TV is all about escaping our own lives and enjoying the drama and wealth of someone else's. However, the Kardashians have just never become my cup of tea. (I did read Kim's plea for us to be compassionate with her husband.) To be fair, I haven't even given the Kardashians a chance to win me over, until now.
My Next Guest Needs No Introduction with David Letterman just debuted its third season on Netflix. Guests include Lizzo, Robert Downey, Jr., and Kim Kardashian West. Previous seasons featured Barack Obama, Tina Fey, George Clooney, and JAY-Z. One night after we tucked the kids into bed, I threw on my pajamas and started scrolling Netflix. Then I landed on Letterman's show and watched his interview with Kim.
I say "Kim" like we're girlfriends. The truth is, I know very, very little about the Kardashian family besides Caitlyn and Kris were divorced, Kim is married to Kanye (who may or may not be trying to run for president?), and the siblings have a lot of kids and drama. I can't believe it, but my preconceived notions were blown out of the water with this interview. Kim had a lot to share, and I was not only entertained but participated in engaging observation.
The opener had me hooked. Kim and Dave waltz into a CVS together, like that's just totally normal for the pair. Of course, Kim looks like a million bucks, and Dave is scruffier than ever before (like a skinny Santa), because he's semi-retired and can do whatever he wants. They make faces into the security camera, because if there's a camera, those two are going to find it.
The interview takes place on a stage in front of a large audience, including some of Kim's family and Kanye. Kim struts out in a canary-yellow, form fitting dress, hoops, and heels, with her hair in a single, long braid. The audience is enthralled from the get-go. David confesses that he used to poke fun at the Kardashians, but no more, admitting how successful the family is.
They don't waste time. David dove right into discussing the family's close relationship with O.J. Simpson and Nicole Simpson, and the conversation takes a serious turn. David asked Kim how she feels about the verdict, and she thoughtfully replied that she withholds her opinion because she wants to respect the children.
Kim's father was a lawyer, and now Kim is in law school herself. She spends twenty hours a week as an attorney apprentice. Her inspiration was learning of a tweet by Alice Johnson, who committed a minor drug offense, but got the same sentence as Charles Manson: life in prison. She admits that she used to be "oblivious to other people's problems" until this point. What followed was her meeting with President Trump to implore him to pardon Johnson, a great-grandmother, which he did. She states one of her ten-year goals is to work with White House administration, "helping with clemencies."
Kim also shares how she was warned that by going to the White House, she would ruin her reputation. She explained that she's an "extremely focused" person and wasn't going to get sidetracked by politics. Instead, she's committed to helping others.
The stage-interview is rotated with the CVS shopping segment. The pair joke about pharmacy purchases and which ink pens are more "inky." They get their blood pressure and pulse rates checked, and David is sure to grab some Old Spice and Q-tips. They toss items in the cart, including candy, which is, according to Kim, the best part of any CVS.
They also discussed family. Kim has four young children, Psalm, Chicago, Saint, and North, and describes parenting as "magical, wild, and fun." Dave also asked Kim about Bruce, now Caitlyn, and Kim confessed that she was the one who found Bruce dressed "fully as a woman," packed a bag, and went to her sister's house. There they did research on what finding her stepdad dressed as a woman might mean, and the sisters discovered an Oprah episode on a person who was transgender. Kim complimented Caitlyn as someone who "helped break barriers." She admits that the public scandal was difficult, but not all bad—because the family had one another.
They also touched on the time Kim was robbed in Paris during Fashion Week, three years ago. She'd recently received a large ring from her husband and had posted about it on her social media. She shares that "at about three in the morning, I heard stomping up the stairs" and initially thought it was her family who had gone out to a club. She states she just knew that someone was going to come for her, but she couldn't figure out how to call the police in France.
Two people, dressed as masked police officers and carrying a gun, demanded the ring from her. She breaks down in tears during this part of the interview, and confessed she believed that they were going to rape her. They duct taped her hands, mouth, and even her eyes. She later found out that she'd been followed for over two years by the criminals, including on social media.
I learned a lot about Kim. She just celebrated her fortieth birthday, owns an undergarment company called SKIMS, and she has a "staggering" (as David shares) 190,000,000 (and counting) Instagram followers. In fact, during a CVS trip, Kim hilariously teaches Dave how to post to his stories. (Seriously—go watch.) Kim is much more aware of what, and when, she posts on social media after being robbed. She admitted that to this day, she doesn't sleep well until she knows her house is protected by several security officers.
What I appreciate is that Kim didn't shy away or evade any of David's questions. She was as straight-shooter, unashamed of her family or her fame. She wasn't cold or calculated as I presumed, rather she was warm and almost relatable. She refers to herself as "very mentally strong." She also admitted that she's "really blessed," that her family is going "extremely well," and she's "very grateful."
The interview truly was candid, and I look forward to watching more episodes of My Next Guest Needs No Introduction With David Letterman.
This article was originally published on