Kimberly & James Van Der Beek Announce Miscarriage 1 Month After Sharing Pregnancy News
by Valerie Williams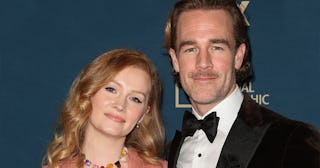 Paul Archuleta/Getty
James Van Der Beek shares miscarriage news on "Dancing With the Stars"
Only a month ago, actor James Van Der Beek and his wife Kimberly announced the happy news that they were expecting their sixth child. Now, they're sharing that they've suffered a devastating miscarriage.
The couple took to Instagram in early October and acknowledged in that post that the reason they wanted to share their pregnancy news early is because they've already experienced three losses and wanted to open up the conversation. "Thrilled beyond belief to announce that another little bundle of joy has picked us to be their family. We chose to have our first ultrasound on camera with our #DWTS crew capturing the result – something I NEVER thought we'd ever do… but @vanderkimberly and I have been through three of those first appointments to discover either no heartbeat, or no baby, and she wanted to share this moment," he wrote.
https://www.instagram.com/p/B3VkzglJ4ae/?utm_source=ig_embed
"We decided to put ourselves out there – not knowing what we'd find – in an effort to chip away at any senseless stigma around this experience and to encourage people who might be going through it to open themselves up to love & support from friends and family when they need it most. Happily, for us – this time- we walked out with tears of joy," he said. And now, they're being just as vulnerable in sharing the sad news of their loss.
"Wrecked. Devastated. In shock. That's how we're feeling right now after the soul we thought were going to welcome into our family in April… has taken a short cut to whatever lies beyond this life. We've been through this before, but never this late in the pregnancy, and never accompanied by such a scary, horrific threat to @vanderkimberly and her well-being," he writes.
While the couple haven't disclosed what happened to put Kimberly at risk, they are being very transparent in their grief. "Grateful that she's now recovering, but we've only just begun unpacking the layers of this one," he says. "Thank you to all of our friends and co-workers (and dance partners) who have shown up for us so beautifully during this time. As many of you have said, "There are no words…" and it's true. Which is why in a time like this it's enough to know that you're there. Grieving AND counting our blessings today."
"My wife Kimberly went through every expectant parent's worst nightmare. We lost the baby," he shared during last night's episode of Dancing With the Stars. "The little soul that we had expected to welcome into our family took a shortcut to whatever lies beyond. You never know why these things happen. That's what I've been telling my kids."
He then shared that it was his wife, while still recovering, telling him to appear on the show. "Kimberly, from her hospital bed, said to me, 'I am not done watching you dance.' Kimberly, I love you," he said. "When words fail, you sing. When there are no words, you dance. Kimberly, I'm dancing for you, I'm dancing for us." At the end of his performance with partner Emma Slater, he collapsed into tears and she joined him. It was absolutely heartbreaking.
Kimberly also shared a video on Instagram that hinted at what the family was going through. "It was a TOUGH weekend. Extra thankful right now to have help with my kids," she wrote. "Keeping these cuties happy as can be while I replenish at home."
https://www.instagram.com/p/B5BQXbXnLCa/
The couple has long been open about their experiences with miscarriage. In September 2018, James wrote about their losses. "It's painful and it's heartbreaking on levels deeper than you may have ever experienced. So don't judge your grief, or try to rationalize your way around it. Let it flow in the waves in which it comes, and allow it it's rightful space. And then… once you're able… try to recognize the beauty in how you put yourself back together differently than you were before."
Pregnancy and child loss can be incredibly lonely as many couples choose not to discuss it openly. James and Kimberly laying their raw emotions bare is comforting to others who've been there and felt they should stay silent. It's impossible to know how many people they're helping with their decision to talk about it and for that we're grateful.
This article was originally published on