Beware: Knock-Off Car Seats That Don't Meet Safety Standards Are On The Rise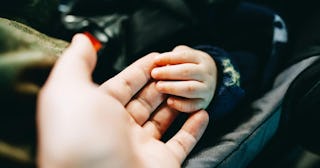 d3sign/Getty
It's a sobering fact that car accidents are a leading cause of death among children under the age of 12. At the same time, we have an amazing way to reduce and prevent these deaths: car seats.
The thing is, car seats don't work unless they are installed and used properly. It can be confusing to make sure your seat is the right size and fit for your child, that it's installed correctly in your car, and that your child is strapped into it appropriately.
But parents do what we need to do to get it right—including seeking help from child passenger safety technicians (CPST) if needed—because car seat safety is that important.
As if all of that weren't time-consuming and nerve-wracking enough, now parents have another car seat related stress to contend with: knock-off car seats.
Of course, not all affordable (read: cheaper) car seats are fake knock-offs, but apparently some folks out there have decided to make a pretty penny off of parents who are looking for a discounted seat by passing off fake ones as the real deal.
As The Washington Post reports, knock-off car seats are saturating the online marketplace. Companies selling unregulated products are touting their wares on massively popular sites like Amazon and Walmart, and parents are attracted to the seats because they are sold for less than market value.
Important note: It is possible to purchase discounted car seats that ARE safe. Check out this post for some ideas.
The Post reports that upon contacting Walmart and Amazon, most of the knock-off seats were removed, but sites like Ebay and AliExpress still contain a ton of listings for knock-off seats.
As you can imagine, these seats are not safe. In order for a car seat to be legitimately sold in America, it must meet federally set safety standards and pass several crash tests. These seats have not, and will not, keep your child safe in the event of an accident.
Laurel Schamber, a certified child-passenger safety technician based in California, described to The Post one knock-off seat she saw a grandmother bring in a few months ago for inspection.
"It looked like a deconstructed backpack," Schamber said. "It's made of backpack material, no manufacturer name, no labeling, nothing."
"There was no chest clip," Schamber added. "There was nothing to hold the child into the seat of the vehicle."
Other outlets, such as KMOV, St. Louis' local news channel, have also warned of knock-off seats that have been spotted in their communities. These seats share many of the same traits that Schamber mentioned.
And it's not just infant car seats that are in play here. There are several copy-cat booster seats being sold as well, such as knock-off MiFolds. These seats, which can be folded up small enough to fit in a backpack, are easy to replicate, and it's not always easy for parents to tell the difference between a real MiFold and a fake.
"Parents and caregivers can't be expected to know by looking at the product whether it's good enough," Jon Sumroy, MiFold's chief executive, tells The Post. "You can buy the MiFold at Walmart or Target or Buy Buy Baby in the United States."
Sumroy explained that in order to get his products sold in these stores, he had to show they they met safety standards. But he says that sites like eBay don't check to see whether the seats are safe.
The truth is, when you buy products anywhere on the internet, you really don't know what you are getting. And with so many of us looking for the latest deal online, it's easy to see how parents could fall for these knock-off brands and not even realize it.
However, just because these seats exist, it doesn't mean you have to fall victim to one of these scams – scams that could very well put your child at risk. There are a couple of simple, key questions to ask yourself when you are purchasing a car seat:
– Is your seat properly labeled? All car seats are required to have this printed on their labels: "The child restraint system conforms to all applicable federal motor vehicle safety standards."
– Does your seat have a recognizable product brand label on it?
– Can you find your car seat brand listed on a reputable car seat website?
– Does your car seat have a model number and manufacture date?
– Does it have an instruction manual and a product recall registration card?
– Is your seat listed on the Academy of Pediatrics approved list of seats?
You can also check the seat for "red flags" that many knock-off seats share: no chest clips, made of low-quality plastic material (including buckles), insecure fit in car, and just generally made of flimsy material that looks like it would easily break.
Finally – and maybe most importantly – if the deal you are getting on your seat seems too good to be true, it probably is. Listen, raising kids can be seriously expensive. But car seat safety is something that none of us should skimp on, ever (and again, buying a good quality seat doesn't have to break the bank). The lives of our precious kids are too important.
For more information about car seat safety, check out this post written by Alisa Baer, MD & CPSTI (i.e., The Car Seat Lady) as well as our interview with her here.
This article was originally published on