Kristen Bell And Dax Shepard Are 'At Each Other's Throats' While Quarantining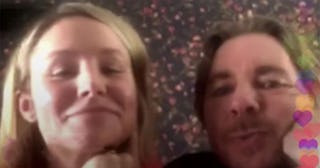 Katie Couric/Youtube
Kristen Bell and Dax Shepard are getting real about the tensions in their household as they self-quarantine
No one, not even humans in the same immediate family, should be together 24 hours per day, seven days a week, not even Kristen Bell and Dax Shepard. Self-quarantining with your loved ones is, undoubtedly, the best thing everyone can do right now. It's also one of the hardest. Even for celebrities.
During and interview with Katie Couric on Instagram Live this week, Bell and Shepard shared how they and their daughters, Lincoln, 7, and Delta, 5, are coping while being stuck in the house. Spoiler alert: not well!
"We're getting along good with the kids and we're getting along good with adults we're friends with. This has been stressful for momma and dada," Shepard says.
Bell wastes no time in explaining just how stressful. "We've been at each other's throats real bad, real bad," she says, even playfully admitting that the interview "as physically close as we've been in a couple of days 'cause we've just found each other revolting."
Interestingly, Bell and Shepard have been self-quarantining for less time than most of us. Shepard was self-quarantining separately from his family for awhile because he had been traveling and Bell didn't want him to join her and their daughters until he was in the clear. She and the girls even serenaded him with a song and dance party to cheer him up while he was all by his lonesome.
But it looks like their happy reunion has worn off and they're now experiencing the suffocating closeness we're all enduring right now.
"America's sweetheart has some character defects," Shepard says. After he left Bell to continue the interview herself, he could still be heard off-camera, much to his wife's chagrin.
"He's too big, Katie. He's too loud and too big. He's everywhere," Bell laments. Who among us cannot relate to this? My own husband is 6'5″ and we live in a home that is likely a tiny fraction of the size of theirs and this echoes my own thoughts very, very accurately.
https://www.instagram.com/p/B-L2ZsQpdWb/
This isn't the first time these two have been candid about the work that goes into their marriage. Earlier this year, they admitted they genuinely feel it's important to publicly discuss just how much work goes into making a marriage work. Even through "blackout" fights, as Kristen described on Justin Long's podcast in January.
She admitted that she and Shepard had an "incredible" fight that was so intense, they "blacked out" and she ended up camping out on the couch while giving Shepard the silent treatment for three days.
Their big fight ended in zero apologies but the entire family did get a new dog named Freddie. Wonder if that means the Bell-Shepards will get Freddie a friend during this crisis? Or two? Or three? Who's to say, really? There are no more rules anymore. But these two can always be counted on for a relatable tidbit.
This article was originally published on