Kristen Bell & Dax Shepard Do Solo Therapy To 'Talk Sh*t About Each Other'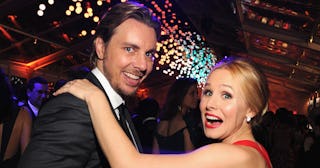 Kevin Mazur/VF14/WireImage/Getty
Kristen Bell just got real about why she and her husband Dax Shepard go to therapy separately: "to talk shit about each other"
When it comes to getting real about the state of their marriage, you can almost always count on Kristen Bell and Dax Shepard to lay it all out on the table. They have been open about going to couple's counseling over the years, but in a new interview, Bell shared that they also go to therapy separately at the advice of their therapist — so they can "talk shit about each other."
Bell is a guest on today's Ellen Show, and she spoke with guest host Chelsea Handler about how she and Shepard survived the early days of quarantine, when they admitted they had a "huge fight" and didn't speak to each other for several days.
"At the beginning of the pandemic, we were at each other's throats," Bell told Handler. "And then all the doors locked in our house. Like, we had to stay inside. And we were like, 'Woof. We need to get a handle on the annoyances.'"
She shared that the couple's joint therapist, Harry, advised them to have solo sessions in order to, yep, "talk shit about each other." She added, "The reality is, if you're living with one human being — I don't care if it's your partner, or your husband, or your wife, whoever it is, your roommate — you need to brush up on your toolbox. Because you will find that person annoying. Relationships take work."
"[Our therapist] suggested that we go to therapy separately, kind of so that we could talk shit about each other," she said, laughing. "And we did! And it's been great!"
"Every two weeks or so I'll see Harry via Zoom and complain about Dax, and then he'll give me all the reasons why I'm wrong," she continued, "and then Dax will do the same, and then by the time we meet up in the evening, we love each other again because our toolboxes are bigger.
"When you have a third party moderating any disagreement, it's always the safer place," she added. "Because when two people are talking, defense mechanisms and cortisol and all that stuff, it just messes up the solution."
More of this, please! It takes guts to both commit to therapy and to discuss it so openly, especially knowing that there's a global platform of commenters who are more than happy to share their unfounded feelings and beliefs about your relationship online. It's cool as hell that these two are helping to normalize going to therapy for any reason — chipping away at the misconceptions and stigmas surrounding therapy is always a win, so bravo to these two for doing the work and being honest about it.