Kristen Bell Is Starring In A New Preschool Music Show And It Looks Adorable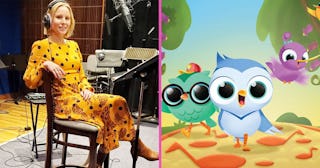 Kristen Bell/Instagram and Amazon Prime Video
Kristen Bell to sing and star in a new preschool music show coming to Amazon
Kristen Bell is starring in a new musical animated show aimed at preschoolers. Bell has a beautiful singing voice, so we cannot wait for this new show and all the catchy jingles we're sure we're going to fall in love with, but more importantly, it's about time we had a kid's show that focuses so heavily on music.
Per Variety, Amazon's upcoming kids' show Do, Re & Mi is an "animated lyrical series for preschoolers…[about] three birdie best friends named Do, Re & Mi who live in a world filled with rhythm, beats and melodies. Every episode of the series starts with an adventure and ends in a song." Each episode's original song will be performed by — who else — Kristen Bell.
"Today I was in the studio working on #DoReMi- a preschool show that explores music!" Bell shared in an Instagram post from the recording studio on Tuesday, October 22, 2019.
Bell says that the show will feature "Different styles of music, how to sing it, how to read it, how to play and how to love it! With music programs being cut from public schools left and right, i couldnt imagine spending time on something more important than this."
A 2019 study claimed that music students do better in school than their non-musical peers and unfortunately, when public schools need to trim their budgets — music classes are often the first to go. As for preschool-aged kids, Mary Luehrisen, executive director of the National Association of Music Merchants (NAMM) told PBS that "a music-rich experience for children of singing, listening and moving is really bringing a very serious benefit to children as they progress into more formal learning."
As for Bell's forthcoming show, the show's creators told Variety last year that Do, Re & Mi will help "kids discover the power of music in more engaging ways: through storytelling, singing, and, ultimately, by making music themselves."
"[When] kids are exposed to music education at a young age, it doesn't just make them more musical — it can actually help in areas ranging from critical thinking and collaboration to creativity and self-confidence," the producers added.
Bell concluded her post by thanking Amazon for "being such champions of kids music education!!!"
The show's air date has not been announced just yet, but we're just really excited to introduce our kids to Kristen Bell songs that aren't from Frozen.