Kristen Wiig's Oscar Dress Has Everyone Making Jokes
by Julie Scagell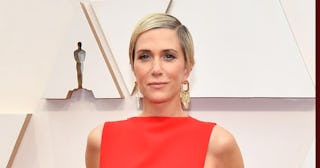 Amy Sussman/ Getty
People had All Of The Feelings About Kristen Wiig at the Oscars
The Oscars are a night of fashion and Hollywood glamour. Most of us are watching in sweats on our couches with a cold slice of pizza and last night's remnants of wine — and yet — we sit in judgment of all the choices being made on the red carpet. Look no further than Kristen Wiig's gown and at least everyone seems to agree on something.
Wiig is presenting this year (crossing fingers with Gal Gadot her Wonder Woman 1984 co-star) because two powerful, gorgeous women on stage is always a reason to celebrate. Unfortunately, Wiig's dress is getting some unwarranted bad press. I don't care whether we love or hate it, another gentle reminder most of us are watching in our sweatpants.
Twitter was abuzz at the red dress Wiig chose for one of Hollywood's biggest nights. Lest we forget she'd look good covered in a real giant lasagna noodle, it seems many people actually thought she had covered herself in a giant lasagna noodle:
Others had similar, yet wildly different descriptions of her fashion choice:
Listen, anyone who can rock a bright red dress of any shape or size deserves a, well, an Oscar. It's a night where all eyes are on the women because this is the peak of glam and it's exciting to see true Hollywood royalty putting their best foot forward to knock us regular folks off our rockers.
Of course, it's easy to sit back and judge everyone's choices — because we are literally sitting on our asses not putting ourselves out there. But it takes courage to walk in front of millions of people and feel confident in whatever we fell in love with when it went on our bodies.
Pulling off a choice like that is damn near impossible. But, she did it. And we love her for it.
Wiig was nominated for an Academy Award for Best Writing, Original Screenplay and Best Performance by an Actress in a Motion Picture – Comedy or Musical for Bridesmaids in 2012, and a number for her roles in Saturday Night Live, so she's no stranger to the red carpet. Regardless of what she wears, she's a comedy legend and deserves all of the props she's gotten for her work.
It's been a joy to see all the strong, powerful women grace the awards show this year (obviously not for the nominations) and here's hoping all us armchair quarterbacks would hold up as well to the pressure a night like this brings.