Kristin Chenoweth Celebrated Ariana Grande's Wicked Casting With An Adorable Throwback Photo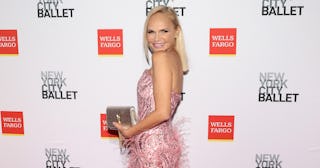 (Taylor Hill / WireImage via Getty Images)
Kristin Chenoweth, AKA Glinda in the original Broadway cast, congratulated Ariana Grande for being cast as Glinda for the film version of Wicked, with a couple of throwback snapshots
First things first: how exciting is it that we finally know who is leading the cast of Jon M. Chu's Wicked adaptation? Cynthia Erivo is set to play Elphaba, and Ariana Grande is — and has been — primed to play Glinda. We honestly couldn't think of two better people for the roles, and the original Broadway cast agrees. Kristin Chenoweth took to Instagram to celebrate Grande's casting.
The first snap is a 10-year-old tweet of Grande's, proving that if you want it bad enough, you can have it.
"Loved seeing Wicked again…amazing production! Made me realize again how badly I want 2 play Glinda at some point in my life! #DreamRole," wrote Grande at the time.
The second shot is a black and white photo of Chenoweth posing with a young Grande, presumably after Grande saw the show that inspired her tweet.
"I'm not sure if I've ever been this proud," Chenoweth wrote in the caption. "From the very first day I met you (swipe to see!!), you were destined for this role. Congratulations @arianagrande! The best Glinda you will be with @cynthiaerivo by your side 💗💚 I love you!!"
Grande couldn't be more grateful for the original Glinda's blessing
"words don't suffice. i love you more than i can say, i always have and always will. and her. thank you for holding my hand," Grande replied in the comments. Others chimed in, agreeing that this casting is nothing short of kismet. And of course, people are really digging all the fuzzy, feel good vibes of the entire situation.
Like, we're getting emotional now. Someone pass the tissues, please.
Others were quick to shut down haters and self-proclaimed Broadway purists who don't think Grande is up to the task of playing Glinda. Gentle reminder for the critics: Grande is a Broadway-trained singer with pipes. Deal with it.
Also, just to reiterate: Grande literally manifested this role. Like she sings in "Magic," "I get everything I want because I attract it." Anyone else practicing affirmations now?
Idina Menzel, AKA the original Elphaba, also praised the casting of both Grande and Erivo
Grande's got the stamp of approval from both the Good Witch and the Wicked Witch herself! Idina Menzel took to Twitter after the news broke, saying, "Congrats to two amazing women. May it change your lives for the better forever and ever as it has for us. So much love."
We cannot wait to find out who else will be cast in what is sure to be an absolutely magical musical adaptation.