Kumail Nanjiani Shares Shirtless Selfies And Honest Info On How He Got Ripped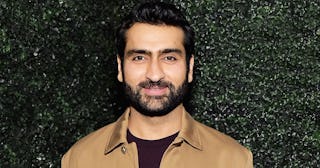 Stefanie Keenan/Getty
The Eternals' Kumail Nanjiani just debuted his new ripped physique along with a refreshingly honest explanation
Gird your loins, everyone, because the internet's latest thirst-trap obsession has arrived — and it's probably not who you'd expect. Kumail Nanjiani, of Silicon Valley and The Big Sick fame, is currently sporting a jacked physique. He shared as much via his Instagram feed on Monday, but his post wasn't your run-of-the-mill "thirsty shirtless." Nanjiani's candid caption made it perfectly clear that getting ripped is, quite honestly, a luxury.
Before we get into the backstory Nanjiani shared about undergoing such a drastic physical change, let's take a moment to appreciate the fruits of his labor. Because, in the collective sentiment of the internet, he's lookin' like a snack-and-a-half. A whole beefcake. Pick your favorite metaphor as long as it means tasty.
We'll stop now, because we don't want to objectify Nanjiani (too much). Plus, he's always been hot. To really capture Nanjiani's deliciousness in its entirety, we need to discuss the way he unveiled his newly ripped physique to the world. Posting his now-viral shirtless photo to his Instagram feed, the actor told fans and followers that the change was the result of a lot of time, energy and, from the sound of it, money well-spent on health and fitness experts.
"I never thought I'd be one of those people who would post a thirsty shirtless, but I've worked way too hard for way too long so here we are. You either die a hero, or you live long enough to see yourself become the villain. I found out a year ago I was going to be in Marvel's Eternals and decided I wanted to transform how I looked," Nanjiani said.
But lest people look at Nanjiani and mistakenly assume his metamorphosis was a mere matter of snapping his (probably now super-sculpted) fingers, he continued. "I would not have been able to do this if I didn't have a full year with the best trainers and nutritionists paid for by the biggest studio in the world," he said. "I'm glad I look like this, but I also understand why I never did before. It would have been impossible without these resources and time."
In other words, there's no magic pill or secret potion or super-speedy gym hack. Contrary to the misleading glossy, airbrushed, "I just have great genes" body image message often emanating from Hollywood, Nanjiani's frank admission is a breath of fresh air. He even drove home his point by spelling out how his team got him to where he is. Prior to shooting, he had a trainer who made him "understand true physical pain for months and months." Once filming began, other experts continued to train him "almost every day." A catering company delivered "delicious and healthy meals" to his door. And a nutritionist kept his diet on track.
His biggest thanks, though, went to his wife, Emily V. Gordon. He credits her "for putting up with me complaining and talking about only working out and dieting for the last year." He ended his post to her (and maybe half-seriously to the world as well) with a vow to "be interesting again some day."
Nanjiani definitely deserves major kudos for both his commitment and honesty. But Gordon also gets a gold star for her response: "Worth it."
This article was originally published on