Kylie Jenner Gets Mom-Shamed For Letting Stormi Wear Hoop Earrings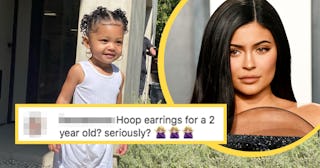 Kylie Jenner/Instagram and Frazer Harrison/Getty
Stormi Webster debuted new, personalized hoop earrings and of course trolls had to ruin it
Kylie Jenner is catching some heat from Instagram commenters after she posted a series of photos and a video showing her daughter, Stormi Webster, wearing a set of hoop earrings. The toddler, who recently turned two, seems to absolutely love them. And judging by the video Jenner posted, good luck to anyone who comes between Stormi and her hoops.
The earrings, which are personalized with her name, are gold and adorable and, well, little Stormi knows it.
https://www.instagram.com/p/B8uJ6HgnO67/
Little kids love wearing "grown-up" things like this, whether they're fake plastic clip-ons or the real deal. You can tell she feels incredibly special to be wearing them, and she looks absolutely adorable in them.
But that doesn't stop the collective downers of the internet, who felt compelled to let Kylie Jenner know that she's being a bad mother for allowing something so scandalous and dangerous as this to occur.
Shaming is something pretty much every famous person who shares their lives online must endure, unfortunately. It's like these people don't realize it costs exactly zero dollars to mind your own business — if you don't like hoop earrings for tiny children, then do not let your own tiny children wear hoop earrings! Problem solved. And, realistically, Stormi probably wore then for as long as any toddler would before forgetting they're there and going about her day.
When Stormi was a couple of months old, Jenner attended Coachella for work — and boy, did the trolls come out in full force for that one. Because why should a young, extremely wealthy mother have any fun at all? Doesn't she know she's to be chained to the house, doing Mom Things and Mom Things only until Stormi is 18 years old? LOL.
Good luck getting her to take off her beloved hoops, trolls of the world. The girl is attached to her accessories, as she should be.
Like most people with better things to do, Jenner typically doesn't respond to the shamers who plague her Instagram with their unsolicited opinions. She and Stormi just live their lives — and what lives they live, as evidenced by the "Stormi's World" birthday party she and her ex, Travis Scott, recently threw their two-year-old daughter.
https://www.instagram.com/p/B8FYXSXnXYY/
Troll away if you must, but please know it's clear that these two are extremely unbothered by your comments. As they should be.
This article was originally published on