Be That Extra Mom At The Pool This Summer With A La Croix Swimsuit
by Cassandra Stone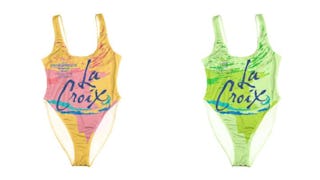 Image via Public Space
Love LaCroix? Now you can swim in it, literally
Forget the skirted swimsuits and full-coverage tankinis, moms. This summer you need a more creative, daring swimsuit when you show up at the pool — something non-traditional but still allows you the security of chasing your little ones around.
Something like…drumroll please…these LaCroix-inspired swimsuits. They're everything you didn't know you needed.
Related: These 9 Bestselling Swimsuits Have A Cult Following On Amazon — And They're All Under $30
If you, too, love the world's most popular sparkling soda water enough to literally swim in it — well, now you can. Clothing retailer PublicSpace has launched the LaCroix line of our dreams.
And it's extra AF.
Grapefruit, or Pamplemousse if you're fancy, is hands-down the best LaCroix flavor. The fact that the can-turned-swimsuit has the most summer-y colors just makes it all the more appealing.
If you don't agree about the flavor, get back to me after you've paired a can of grapefruit LaCroix+ jalapeño/grapefruit vodka over ice with a salted rim. You're welcome.
Is there anything more summery than lemon yellow? This suit lets everyone know you're just a simple, classic gal and you like to show off your tan.
Lime, however classic it may be, is the "fun aunt" of LaCroix flavors and not just because it adds a little something extra (read: carbonated) to a classic margarita. (I don't know why my primary use for LaCroix is for mixing alcohol but bear with me here.)
Related: The Coolest Rash Guards For Parents Who Don't Want To Bare It All (Or Get Sunburn)
You can totally have fun in this bathing suit and break up a splash fight in it at the same time.
If you're really feeling a full-throttle summer LEWK, the Passion Fruit swimsuit is serving it up. It reminds me of a white/pink/aqua Huffy bike I had in the early '90s. Or something you'd pair with leg warmers for a Jazzercise class.
Oh and don't worry, dads are not left out of the equation here. There are plenty of options for matching trunks so you can doubly embarrass the kids this summer.
Related: The 9 Best Maternity Swimsuits To Flaunt Your Baby Bump
As far as quality, both the one-pieces and the trunks are made of a quick-dry material and offer a four-way stretch, and the ink is natural, and nontoxic, according to the site.
After a thorough search, it looks like a pubic hair trimmer does not, in fact, come with the purchase of the insanely thigh-high one-pieces, though, so you're on your own there. Now off with you — time to crack open a can of LaCroix and figure out what flavor you're feeling.
This article was originally published on