The Full Length 'Lady And The Tramp' Trailer Is Here To Melt Your Heart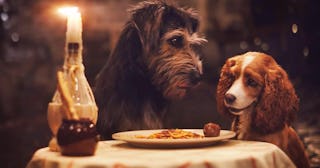 Walt Disney Studios/Youtube
The official "Lady and the Tramp" trailer is here and the movie drops on Disney Plus on November 12, 2019
So much Disney Plus news, so little time! Yesterday, Disney announced all 300 plus titles coming to Disney Plus next month, and then, for dessert, the House of Mouse gave us the full-length trailer for Lady and the Tramp and if you ask us, it's better than the 1955 animated original. Sorry, not sorry!
Disney dropped a teaser trailer for the flick back in August and it was totally sweet, but this longer trailer gives us a taste of the world of the story along with Lady and Tramp's personalities. Tramp, voiced by Justin Theroux, is silly and sarcastic. At one point he goes up to a pair of dolled up poodles and asks if they are twins, to which they clapback "Hey man, I'm her husband." Lady, voiced by Tessa Thompson, is dry, cunning, and no-nonsense and will make your heart explode when her eyes well with doggy tears.
The original animated version was a beautifully romantic tale, but these CGI dogs (technically they're real dogs brushed with a hint of CGI photorealism) know how to pull at our heart strings in a way that 2D dogs just can't.
Wait 'till you get to the spaghetti and meatball scene and try not to squeal.
Per Disney, Lady and the Tramp is a "timeless re-telling of the 1955 animated classic, a pampered house dog and a tough but lovable stray embark on an unexpected adventure and, despite their differences, grow closer and come to understand the value of home."
Awwww.
If the trailer didn't fill you with weepy nostalgic tears, then this next factoid will. The dogs in the film were actual rescue dogs. Tramp is played by 2-year-old terrier mix Monte, who was later adopted by his trainer. According to People, Monte was hired for his soulful eyes and mellow temperament. But Monte isn't the only pup who found his forever home, Disney confirmed that all the rescue dogs used in the film were all eventually adopted.
Lady and the Tramp will stream exclusively on Disney Plus (no theatrical release) on November 12, 2019 along with a host of brand new streaming-only content. To name a few, there's Noelle, starring Bill Hader and Anna Kendrick, a movie about Santa's kids who have to rally together and save Christmas. Or, The Mandalorian, a new series that takes place in the Star Wars universe five years after the events of Return of the Jedi. There's also a new series called The World According To Jeff Goldblum and we'll never refuse more Jeff Goldblum content.
You can find out more about everything coming to Disney Plus in November here.
This article was originally published on