Lady Gaga Dressed As Phoebe To Sing 'Smelly Cat' On 'Friends' Reunion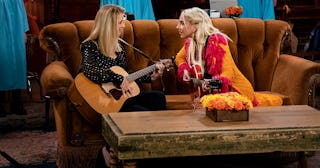 Terence Patrick/HBO Max
Lady Gaga is turning "Smelly Cat" into the certified bop it always deserved to be
The Friends reunion finally premiered on HBO Max this week, and it brought back so many memories from the iconic show's heyday, more than 17 years ago. One moment we all knew was bound to happen was Lisa Kudrow reviving "Smelly Cat," a song her character sang in season two that became an instantly unforgettable moment in the series. What we didn't expect was for Lady Gaga and an entire gospel choir to show up to help make a "Smelly Cat" remix that's about to be the song of the summer.
Kudrow was sitting on the couch on the Central Perk set, strumming her guitar and singing the tune, when Gaga walked in the door, guitar in hand. The moment was made even better by the fact that Gaga was dressed in a classic Pheobe Buffay outfit. She took a seat next to Kudrow on the couch and explained how "Smelly Cat" was "one of my favorite songs."
"Do you mind if I take 'Smelly Cat' for a spin," Gaga asked.
She then proceeded to belt out a rendition of the song that, despite its pretty ridiculous lyrics, will actually give you chills from her talent alone.
Kudrow joked that Gaga's version of the song was "not bad," before joining in for the chorus. The two sang the song together, and honestly? It might have been the best moment of the entire Friends reunion.
"Smelly Cat" got even more of the justice it deserved when suddenly, a gospel choir entered the set. The stood around the room's perimeter and sang along, while Gaga continued to belt the lyrics and Kudrow strummed on her guitar. This is the "Smelly Cat" radio remix we never even knew we needed. Can someone get the Grammys on the phone?
Of course, fans were very into it.
The silly moment ended on a more touching note, when Gaga thanked Kudrow for her work on Friends.
"Can I just say something? Thank you for being the person for all of us on Friends," she said. "I don't know if this is the right way to say it, but the different one or the one that was really herself."
Gaga was one of a pretty star-studded lineup of guests who joined the show's original cast for the HBO reunion. To catch all their moments, you can now stream the Friends reunion on HBO Max.