Lance Bass & Husband Announce They're Expecting Twins In Adorable TikTok
by Christina Marfice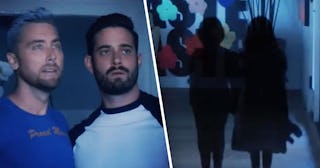 Lance Bass/TikTok
Lance Bass and his husband, Michael Turchin, are finally going to be dads!
Every year, Pride is a time of celebration. It's when we all celebrate love in all its forms, but for Lance Bass, this year's Pride is extra special: He and his husband, Michael Turchin, just announced that they're going to be dads! The longtime couple is expecting a pair of boy-girl twins, carried by a surrogate and due later this fall.
In a hilarious video posted to TikTok, the couple treated the imminent birth of their children like a horror movie. The fake trailer shows them eating dinner while phantom baby cries ring out across their house, being stalked by shadowy figures of children in the hallways, and finally, opening a lit up and rattling oven to reveal… two buns. Get it? Two buns in the oven? Of course, Bass captioned the video with #zaddies, because what else?
https://www.tiktok.com/@lance/video/6968918700305042693?referer_url=https%3A%2F%2Fwww.today.com%2F&referer_video_id=6968918700305042693&refer=embed&is_copy_url=0&is_from_webapp=v1&sender_device=pc&sender_web_id=6891408312291264006
The TikTok video seemed to indicate that the twins might be due on Halloween, but Bass and Turchin tell PEOPLE exclusively that the babies are coming in November. Close enough! This is truly incredible news for the couple, who got married in 2014 and have documented their years-long struggle to become parents. To date, they've been through nine different egg donors, multiple attempted surrogacies, and failed IVF attempts. Their surrogate was pregnant with twins last year, but miscarried.
"Because of what we've been through the last four years, we were very cautious to get excited," Bass told PEOPLE. "And it kind of sucks because when you find out you're pregnant, you want to celebrate with your family. You start planning their future in your head already, but we were so scared because we didn't want to go through the pain again of losing them. We told our friends and family about the ninth week, when we finally felt comfortable. You think you're going to jinx it or something."
The couple also told People that after their egg retrieval, they each fertilized half the eggs. They ended up with two healthy embryos, and are now on the road to having two babies.
"I grew up in this family unit where I dreamt of having a kid and having that dynamic. And sometimes in your life you feel like, 'Okay, I'll never be able to have that. I'm not supposed to have that,'" Bass said. "But now we're realizing, 'No, we do need that. We deserve that and we can have this.'"
Bass continues, "We always knew we wanted at least two kids, it would be nice to have a boy and a girl just to feel the experiences of raising both or whatever they end up being. I think it's just amazing that science has gotten this far where we can make the healthiest human beings ever. And I hope in our lifetime, we'll be able to see the whole world be able to do this."
Congratulations to the parents-to-be!