Lance Bass Posts Pic Of His Twins In NSYNC Onesies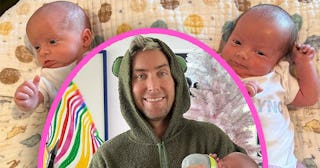 Lance Bass/Instagram
Lance Bass has been posting some quality Dad content on Instagram, including an adorable shot of his twins repping his band
Lance Bass seems to be settling right in to being a dad. Since he and his husband, Michael Turchin, welcomed twins via surrogate earlier this year, the *NSYNC star has been filling his social media with sweet shots of babies and diapers and bottles — everything that makes up a newborn dad's world. And while we love literally any picture of a celebrity baby, the new one Bass just posted might be our favorite so far.
In a photo posted to Instagram, the twins, Violet and Alexander, are laying together with coordinated blankets and matching onesies. Matching *NSYNC onesies.
Bass put a cherry on top of this perfect post with his caption, which referenced an *NSYNC song that's about to be stuck in your head for the rest of the day (you're welcome).
"They're tearin' up my heart," Bass wrote, along with two red heart emojis.
This isn't the only recent photographic evidence that shows Bass and Turchin have settled right in to their new roles as dads. Another recent photo that Bass posted to Instagram shows him giving one of the twins a bottle — in a bear suit, because why not?
"Poppa bear," he wrote in the caption, showing that even though he's only been a dad for a few weeks, his dad jokes are already very much on point. You love to see it.
Bass and Turchin announced the arrival of the twins by sharing their birth certificates last month. They were born Oct. 13, fulfilling Bass's wish for a couple of Halloween season babies.
Before they announced that they had twins on the way, both Bass and Turchin were very open about their desire to start a family and the struggles they had trying to have a baby. Since getting married in 2014, the couple has had nine different egg donors, multiple attempted surrogacies, and failed IVF attempts. Their surrogate was pregnant with twins in 2020, but miscarried.
"Because of what we've been through the last four years, we were very cautious to get excited," Bass told People magazine when he announced that he and Turchin were expecting twins once again. "And it kind of sucks because when you find out you're pregnant, you want to celebrate with your family. You start planning their future in your head already, but we were so scared because we didn't want to go through the pain again of losing them. We told our friends and family about the ninth week, when we finally felt comfortable. You think you're going to jinx it or something."