Broadway Star Asks Students To Share Their Now-Cancelled School Musical Performances
by Leah Groth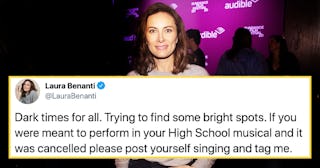 Mat Hayward/Getty
Broadway star Laura Benanti has asked students to share videos from their theater performances due to coronavirus cancellations and postponements
As the United States continues to (finally) react to the novel coronavirus pandemic, it is becoming clear that life as we know has seriously been altered. As school closures are becoming the norm, events and large gatherings — including school plays and musicals that our young people work so hard to put on– are subsequently being cancelled. Laura Benanti has chosen to honor these young Americans who have been busting their behinds memorizing their lines and rehearsing, only to have their shows cancelled due to the coronavirus. The Broadway star is offering a platform for them to share their talents with their world, and the abundance of submissions will definitely warm up your day.
"Dark times for all," she tweeted Friday, March 13. "Trying to find some bright spots. If you were meant to perform in your High School musical and it was cancelled please post yourself singing and tag me. I want to be your audience!! Sending all my love and black market toilet paper."
She encouraged the theater students to utilize the hashtag #SunshineSongs alongside their videos, retweeting many of their clips to her followers.
Because the idea is truly brilliant, she has the support of other Broadway stars — including Lin-Manuel Miranda.
"We were supposed to go to an a capella jazz festival today until it got cancelled last night," wrote one of the students, Jasen Cummings. "We have been working so hard and although we are all heartbroken, we are proud of how far we've come. We asked if we could perform it for our Freshman Choir this afternoon. Here it is."
Another student, named Campbell, thanked the Broadway alum for the opportunity. "I was supposed to be belle in my school's musical this weekend and my heart is sad," she said in the tweet. However, she later explained to Teen Vogue that it's important to think about everyone — not just yourself — when taking precautions against COVID-19. "I have a lot of family members, friends, teachers, etc. that have compromised immune systems and other things that make the disease more dangerous," she said.
Leann Rooney, who attends NYU, revealed that their production of A Chorus Line was cancelled and that the cast is "devastated." But, "here's to hopefully picking up where we left off sometime in the future while staying healthy & safe," she added.
https://twitter.com/jetpack/status/1238574881366827014
Katrina Faulstich, Choral and Theater Director at Bedford High School, shared a video from her school's performance of Legally Blonde, which she hopes will still be an option later in the year.
Watching their hard work is both heartbreaking and heartwarming.
https://twitter.com/jetpack/status/1238593893077331968
"It was truly devastating," Faulstich told Teen Vogue, revealing that this past week contained the hardest days in her teaching career. "I had to write an email to all 70 students in our pit, cast, and crew, as well as their parents. I had to be so much more than a director and teacher this past week. I had to be a strong leader when I was crumbling inside, I had to be a guidance counselor for 70 students, and I had to keep working and planning in the face of an unknown future."
She explained just how devastating it was to her students. "All students were crying, and some were visibly angry and stormed out of the auditorium," she said. "After we all took a few minutes to cry and hug it out, many students came up to me and thanked me for everything I had done for them. I was astounded by the kindness and professionalism my students demonstrated when they were grieving. I think by Thursday, the students realized how much of a global issue this is. It helped them to see that everyone in our country is going through this right now. It helped them to know that the precautions we are taking are legitimate and for the best."
The beauty of Benanti's social media experiment, is that it not only provided these students with the ability to perform in front of an audience, but also gave them a feeling of belonging.
"I wasn't expecting so many people to see the videos I posted," Campbell said. "We didn't get a live audience, but now we have reached even more people. Also, it's comforting to know that other theater kids are going through the same thing. We are all in this together."