18 Apps And Online Learning Programs That We Love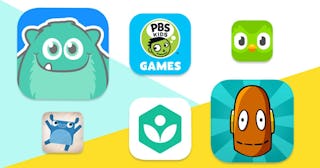 Scary Mommy and Apple App Store
Parents all over the country have found themselves thrust into the role of temporary at-home educator this week. While we work to flatten the curve and keep this Covid-19 pandemic at bay, we are also learning how continue our kids' education.
It can be a daunting task.
Gratefully, teachers everywhere are stepping up as always to give us assignments and pointers and to help keep us on track. Authors, artists, musicians and dancers are offering free live lessons and story times. We are all coming together to keep our kids' minds challenged.
Online and app-based learning can be an amazing way to inspire your kids to continue learning and even expand their educational horizons during this unexpected school hiatus.
We've gathered a list of some of the most useful web-based learning services and educational apps for schoolkids of all ages– and a few for preschool learners, too. Give them a try to make at-home learning easier and more fun.
1. ABC Mouse
ABC Mouse is a website and app designed for kids ages two through eight that teaches kids skills across all subjects using a variety of games and activities. Your first month is free, then you can continue for $9.95 a month.
2. Adventure Academy
From the makers of ABC Mouse, Adventure Academy is a multi-subject, game-based website and app—but this one is designed for kids ages 8-13. Just like ABC Mouse, your first month is free!
https://www.instagram.com/p/B8kVq7-go9f/
3. BrainPop
Brainpop is a group of educational websites used in schools. It supports kids in kindergarten through high school in learning multiple subjects through the use of games, videos and online activities. Brainpop is offering free family memberships to families affected by current school closures.
4. Khan Academy
Khan Academy provides quality free online curriculum in all major subjects to students ages Pre-K through the end of high school and beyond. They even offer free online SAT prep! Kids can work at their own pace, and parents can log in and track their progress.
https://www.instagram.com/p/B8wYzQWoQ8O/
5. PBS Kids
Pre-K and elementary students will love PBS's kids-focused website. They can learn using games, videos, and more featuring characters they already know and love. Join their email list for daily learning suggestions during this school shutdown.
6. Brainzy by Education.com
Brainzy is a free app for kids ages Pre-K through 5th grade. The app features over 600 play-while-you-learn lessons across multiple subjects and areas of interest. This app is associated with education.com which offers a wealth of printables, games and lesson plans. Membership runs around $10 a month.
7. Endless Alphabet
Preschoolers and emerging readers will love the Endless Alphabet app featuring interactive animations. Silly monsters help teach young students letters, sounds, words and definitions. The full version of this app is $8.99. If you love it, you can download their Endless Learning Academy, and for $6.99 a month, you'll have access to their other apps that use monsters to teach reading, math, music and more.
8. DuoLingo
This free app is perfect for older kids interested in learning a second language. DuoLingo plays like a game, but effectively teaches English-speakers second language skills. You can also play online. This one is great for parents, too.
https://www.instagram.com/p/B9zrzPShDKw/
9. Dexteria Dots
This math learning app is recommended for kids ages two through eight. For $2.99, your child can practice basic math on several difficulty levels using games. This one is even recommended by occupational therapists for increasing dexterity.
10. DragonBox
DragonBox is an award-winning family of math games for ages four and up. Way up. For less than ten dollars, your kid can start with practicing numbers and work all the way up to algebra and geometry.
11. Prodigy Kids Math
Prodigy Kids Math is a website designed to make kids in grades one through eight want to practice math using a range of engaging activities. It's curriculum-aligned, so it supports the things they are already learning in school. Their teachers will love it. Membership starts at $4.99 a month.
https://www.instagram.com/p/B9zaSvAFLkV/
12. Montessori Preschool
This is a comprehensive preschool curriculum teaching kids how to read, write, count and code. Don't let the name fool you — parents report using it successfully with kids as old as seven or eight. Try a week free before committing to a monthly membership.
https://www.instagram.com/p/Byb1dM-hpjb/
13. Presidents Vs. Aliens
For just a couple bucks, children of most ages can get a quick, silly history lesson, learning about all forty-five US presidents using customizable games designed for kids four and up.
14. Breathe Think Do with Sesame
Preschoolers ages two through five will love this free, bilingual, problem-solving app. Help your monster friend make a plan to calm down using problem-solving strategies in Spanish or English.
15. Skybrary
Skybrary is a collection of digital books and video field trips created by and starring Reading Rainbow's LeVar Burton! Kids ages two through nine-ish can learn with the man who brought us some of our favorite stories when we were kids. This one is $4.99 a month, and you can use it via website or app.
16. National Geographic Kids
Pre-K through Elementary age kids will love this free website. It's a companion to the monthly print magazine, but even kids without a print subscription can use this site to learn about science and the world around them. Games, quizzes, puzzles and more provide hours of educational fun. For the youngest learners, try the dedicated little kids site.
17. Stack the States
Older kids will love this highly-rated geography learning app. Geography comes to life as kids learn about each US state using a fun and exciting interactive game.
18. Very Hungry Caterpillar and Friends – First Words
Pre-K kids can use this digital pop-up book to learn simple words in four languages. Parents report that this one is easy enough for preschoolers to use alone, so it's pretty much the best $3 you'll spend this week.
https://www.instagram.com/p/B0tM9FShXw4/
Social distancing with kids is not easy. Suddenly taking on the role of educator might feel almost impossible. Apps like these are here to help.
Information about COVID-19 is rapidly changing, and Scary Mommy is committed to providing the most recent data in our coverage. With news being updated so frequently, some of the information in this story may have changed after publication. For this reason, we are encouraging readers to use online resources from local public health departments, the Centers for Disease Control, and the World Health Organization to remain as informed as possible.
This article was originally published on