Lena Waithe To Voice Lesbian Character In Disney-Pixar's 'Onward'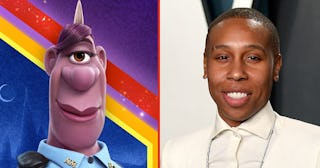 Disney-Pixar, Karwai Tang/Getty Images
Disney-Pixar has officially welcomed the first self-identified lesbian character into its universe
Over the years, there have been rumors and speculation of same-sex characters in Disney-Pixar films. From a same sex couple pushing a baby carriage in Finding Dory and another dropping a kid off at school in Toy Story 4, to Queen Elsa in the Frozen franchise, sexual diversity may be implied but has never been officially addressed by the production companies. However, in a groundbreaking move, the movie studio has officially introduced its first-ever animated LGBTQ character in the upcoming film Onward.
Lena Waithe is voicing a self-identified LGBTQ character Cyclops cop by the name of Officer Specter. The film's producer, Kori Rae, confirmed the news to Yahoo Entertainment. "It just kind of happened," she said during in the interview. "The scene, when we wrote it, was kind of fitting and it opens up the world a little bit, and that's what we wanted."
"It's a modern fantasy world, and we want to represent the modern world," added director, Dan Scanlon.
Onward, starring Chris Pratt and Tom Holland who play two elf brothers, is set in a fantasy universe with mystical creatures, including wizards and centaurs, who have lost their magic roots.
Waithe, who plays a cop, has a minor role. According to Slate, she addresses her sexuality in a scene by exclaiming, "My girlfriend's daughter got me pulling my hair out."
Lena is the perfect actress for this game-changing role, as it has an "art-imitates-life" aspect to it. In her own career, she is quickly breaking barriers. In 2017, she was the first African American woman to be honored with an Emmy for Outstanding Writing for a Comedy Series for an episode of the Netflix series Master of None — an episode that was actually based on her own coming-out story. During her acceptance speech, she addressed her sexuality by thanking her partner at the time, Alana Mayo, and speaking directly to her "LGBTQIA family."
"The things that make us different, those are our superpowers," she said in her emotional acceptance speech. "Every day when you walk out the door and put on your imaginary cape and go out there and conquer the world, because the world would not be as beautiful as it is if we weren't in it."
Disney-Pixar's Onward hits theaters March 8.
This article was originally published on