Lenny Kravitz Shares Adorable Photo To Honor Jason Momoa's Birthday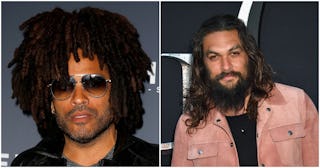 Dominik Bindl/Getty Images, ANGELA WEISS/AFP/Getty Images
Blended family members Lenny Kravitz and Jason Momoa are madly in love
It isn't an easy task to blend families. Many families fail to blend seamlessly, however, every once in a while we are presented with a great example of what a healthy blended family can look like. Case in point: Lenny Kravitz, Lisa Bonet, Jason Mamoa and their children, Zoe Kravitz and Lola and Nakoa-Wolf Momoa. This crew provides us with major #blendedfamilygoals on a daily basis, because they make the whole getting along thing look so darn easy. And beyond that, they all actually like — no love — each other.
In fact, Kravitz and Momoa are so close, he considers the actor "a brother." And what better time to celebrate their bro-hood than on Momoa's birthday? In a super sweet Instagram post, the rock star honored his ex-wife and the stepfather of his daughter, even sharing an intimate photo of the two.
"Happy birthday brother," Kravitz wrote in the post's caption accompanied by a photo of him and Momoa passionately embracing each other in a major bro hug. "Love and respect always. Ohana 'til the end." (If you aren't down with Hawaiian lingo, ohana is a Hawaiian word for family.)
Kravitz got super deep when discussing the amazingness of their blended family in an interview with The Times, referring to his relationship with his ex and her new hubby as "beautiful." He admits that time helped them get close, as he and Bonet divorced way back in 1993. If you do the math, that's 26 years ago. "We took the time so that we could become best friends again," he says. "Our families are blended. I love her husband ― he's like a brother to me ― and I love the kids. It's beautiful, but it takes work."
Kravtiz also bragged about his family to Oprah back in 2013, telling the talk show host that they are one big, happy family. "It just shows you what can be done," he said at the time.
But it gets even more bro-a-licious. Lenny and Jason wear matching rings. In December, the Aquaman star posted a snap on Instagram of their his-and-his bone skull rings. Are you dying yet?
And Zoe is totally in on all the love. Not only were her two dads present at her recent nuptials to Karl Glusman, but she even has a pet name for Momoa, "Papa Bear."
The Kravitz-Momoa-Bonet family is proof that all it takes is love (um, and maybe a few decades?) for a blended family to thrive.
This article was originally published on