Two Hero Maternity Nurses Helped Laboring Moms Vote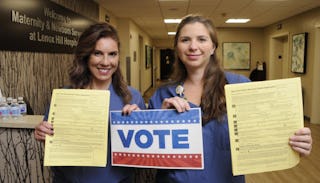 Image via Facebook/Lenox Hill Hospital
When it came to getting out the vote, these two maternity nurses when above and beyond and we love them for it
Now that the 2018 elections are over, and the results are in, we know that we had record voter turnout for a midterm, with an estimated 113 million people voting and 49 percent of eligible voters turning in a ballot. But while many of us voted early or stood in long lines to cast our ballot, some were dealing with medical needs and unexpected trips to the hospital, from women who went into labor to people who had emergency health issues.
In the past, most people suddenly hospitalized on election day would simply have to sit out of the race. But at the Lenox Hill Hospital, located in Manhattan, two maternity nurses devised a one-of-a-kind system for getting laboring moms and sick patients a chance to fill out and return their ballots.
According to the New York Times, Erin Ainslie Smith, an assistant nurse manager, and Lisa Schavrien, an obstetric nurse navigator launched a pilot program at their medical center this year that allowed patients to vote — with a little help from nurses and volunteers.
The process is simple, but involves a lot of legwork. Volunteers, many of them off-duty nurses, run the absentee application to the right Board of Elections office, run the blank ballot back to the hospital, and then run the completed ballot back to the right place.
It's a lifesaver — or at least a vote-saver — for women who are laboring, other patients who weren't anticipating to be in the hospital, and even the friends and family members of people who have been admitted.
"There's lots of patients in the hospital who didn't expect to be there," Smith told the New York Post.
Neither nurse wants to take a political side — they just want to help get the vote out and make sure every voice is heard.
"I just think people are just feeling strongly one way or the other," Schavrien told the Post.
The idea came to Smith before the 2016 general election, and that same year, Schavrien helped one of her patients vote. While the hospital handed out absentee ballots, it was difficult for patients to apply to vote absentee or to turn their applications or ballots in. That's where Schavrien and Smith looked around the country for other hospital voter programs, but found nothing. So they developed their approach.
Chloe and Glen Kendall told the New York Post that they weren't expecting to be at the hospital all day on election day last year, when they had to schedule a last-minute induced labor that started at 6:30 AM. They were worried about not getting to vote, and extremely relieved when the maternity nurses were there to help made sure it could happen, between contractions.
"They're doing a public good," Glen Kendall told the Post.
The pair plan to make it possible for every patient in the hospital to vote in the 2020 general election — and we hope their program expands even further than that.