The New Netflix Rom-Com 'Let It Snow' Is Everything You Need This Holiday Season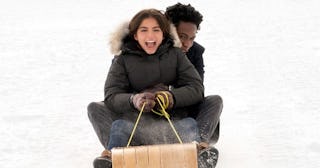 Steve Wilkie/Netflix
'Let It Snow' is giving people all the feels we need during the holidays
If you've not yet seen the Netflix holiday film Let It Snow may I be the first to suggest you drop whatever it is you're currently doing and run (don't walk) to the nearest electronic streaming device. The movie is everything that's good and right about the holidays and friendships, with enough unfinished love stories to keep you glued to your couch until the very end. People who've seen the film, which aired November 8, have So Many Feelings about it, and once you see it, you'll know why.
To give a brief synopsis without giving away too many spoilers, the story is based around a snowstorm that hits a small midwestern town on Christmas Eve. With nowhere to go, the storm brings together a group of high school seniors looking to find answers, closure, and confirmation on who is friend, foe, or love interest. Basically, it's Beautiful Girls meets Love Actually meets every John Hughes movie involving teenagers you've ever watched and loved.
People have big feelings about the show and, no matter your age, you'll fall as hard and fast as the rest of us:
The movie was adapted from a book written by John Green, Lauren Myracle, and Maureen Johnson that was published back in 2009. Now, a decade later, stars Kiernan Shipka and Shameik Moore bring the story to life — and their co-stars bring a new (and much-needed) twist to the book with a love story between two young women, Dorrie (Liv Hewson) and Kerry (Anna Akana).
Speaking of John Hughes, actress Joan Cusack makes a cameo as a wise snowplow driver who delivers one of the best lines of the movie, saying, "It's the eve of everything, of the rest of your life." Someone tee up Sixteen Candles, my heart has officially melted.
Of course, the movie delivers enough cheesiness to qualify it for a Christmas rom-com (that's a compliment, by the way). Really, these movies don't work without the same basic premise of love loss, rejection, and a beer keg that's treated as if it's a sacred Christmas turkey (I said "not many spoilers"). What makes this movie perfect is that even though most of us have our teenage years in the rearview mirror by a landslide, it evokes all the big feelings we had during that time of our lives — and none of us will ever forget them.
If you're still on the fence, please take two minutes to watch the official Netflix trailer. If you are still dead set against letting any amount of rom-coms into your world, so be it. But I think this film can warm the cockles of anyone's cold, dead heart (including my own).
Thank you, Netflix — for giving us so much, especially around the holiday season. Who would we be without you (besides arguably more productive)?
This article was originally published on