Easy Peasy Letter D Crafts For Toddlers And Preschoolers That Are Dy-no-mite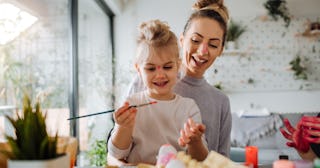 AleksandarNakic/Getty
If you have a little one, you know that teaching them to read is no easy feat. Whether you're homeschooling the kids or just want them to have a head start before they go into kindergarten, it's common to start working on pre-reading skills as early as age two or three. If this is something you'd like to try, the first step is to create a language-rich environment at home. To do this, it's important to engage them in conversation, read to them often, and make sure to point out letters and words in the context of daily life. Once your toddler or preschooler starts showing an interest in learning to read, it's time to start teaching them their letters. Kids learn best through play and hands-on activities, so we've got some ideas to get you started. Today, we're featuring the letter D. Check out our collection of letter D crafts below.
You'll notice some of the crafts are similar — dogs, for instance. Though a few of them feature the same animal or object, each one offers a fun and educational way to spend a weekday afternoon. The activities below require minimal supplies and involve almost no preparation time. Most of what you'll need, you likely already have on hand in your art cabinet. Let's get started.
Looking for more letter crafts for kids? Check out our letter A, B, C, E, F craft pages and get busy.
Letter D Crafts for Toddlers and Preschoolers
1. Teaching Tales — Letter D Dog Craft
Here's a cute video from the Teaching Tales channel showing parents and kids how to take a capital letter D and turn it into a sweet little doggy with floppy ears. The materials needed you probably already have on hand in your art cabinet. Give it a try.
2. ShellyMakes — Dino Activity for Kids
Just like D is for dog, D is for dinosaur too. Kids love dinosaurs. This simple tutorial from ShellyMakes shows you how to take nothing more than construction paper, scissors, and glue to make an a-roar-able dinosaur to hang on the fridge. If that doesn't do the trick, check out our dinosaur coloring pages or dinosaur crafts.
3. All Kids Network — Duck, Duck, Goose
Another easy craft that requires nothing more than a few basic materials, this yellow duck is a great way to teach kids about the letter D and maybe even some duck facts. This video from All Kids Network is short and sweet, coming in at under two minutes, making it a quick and easy weekday activity.
4. Creative Craft Box — Deer Craft for Kids
From the Creative Craft Box channel on YouTube, here's a deer made out of the letter D. This video also comes in at under two minutes, making this craft an easy holiday activity for kids learning their letters.
5. Punk Rock Preschool — The Letter D: D is for Dinosaur
Household supplies like paper plates, printer paper, and markers are all you need to make a dinosaur with your toddler or preschooler.
6. Punk Rock Preschool — The Letter D: D is for Dots
Another easy craft from Punk Rock Preschool on YouTube, here's a fun tutorial where kids get to paint dots on the letter D — no printer required! All you need is paint, a paper plate, construction paper, round sponge brushes, scissors, and a sharpie. These supplies can be found at your local dollar store, making this an inexpensive afternoon activity.
7. So Crafty — Duck Crafts for Kids
Here's a super sweet 3-D duck you can make with your little ones. It requires nothing more than construction paper, scissors, and glue. As long as your art cabinet is stocked with these basics, you've got everything you need. Quack, quack!
8. Craft TV — Origami Dog
If your toddler or preschooler wants to take up a new hobby, how about origami? This beautiful paper art form ranges from easy to difficult. Here's a simple tutorial from the YouTube channel Craft TV – Origami for an origami dog your child is sure to love.
9. D for Donut Decorating
Everyone loves an edible project! Get a bunch of plain donuts and set out a row of different colored frostings and sprinkles. Have each child decorate their own donut and as they make their treat even sweeter, teach them how to spell and pronounce donut. When they're done making their yummy creations. before eating them, make everyone say, "D for donut." The sugary treats will help the letter lesson to stick.
10. Dime Dots
Turn dimes into a stamp. Use about five and dip them into different colors or paint. To make the craft easier and mess-free, hot glue a popsicle stick to each dime. Your child will cover their paper with dime dots, which gives you the opportunity to teach them the value of the coin and colors.
11. Duck Feet
You don't have to head to the pond to find duck feet. Bring some quack-tastic creativity to your home by using a spatula. Dip the pancake flipper into paint and stamp it onto a sheet of paper. Make pairs, so that it looks like a duck strolled across the table. While the kids make prints on their papers, remind them that the word duck begins with the letter D.
12. Dirt Snack
Make a yummy snack craft using pudding, Oreos, and a gummy worm. If your child loves to play in the dirt, this craft is perfect for them. Crunch up a bunch of oreo cookies without the white filling. Then mix it with a cup of chocolate pudding. Pour that mixture into a cup and then add a gummy worm on top. Making a dirt snack is both fun and delicious!
This article was originally published on