10+ Letter H Crafts To Help Busy Mamas Teach Toddlers And Preschoolers Their Letters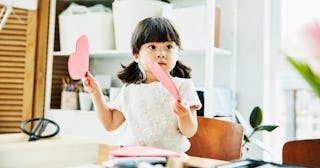 Thomas Barwick/Getty
Are you busy trying to teach a toddler or preschooler their letters? If yes, then you know just how old board books and flashcards can get for them. Luckily, we've got a collection of craft activities to help you as you embark on this journey. When putting on your teacher hat, keep the following in mind. Kids learn best when having fun — even more, during experiences that provide an element of sensory explanation. Arts and crafts are one way to offer your child the opportunity to learn through hands-on play and work those small hand muscles, pincer grasp, and to learn complex skills like cutting paper, writing, and drawing. Today, we're bringing you some letter H crafts to help you get started.
Once you're done with the letter H, give our other letter craft pages a whirl and check out our activities for the letters A, B, C, D, E, F, and G.
Here we go.
Letter H Crafts For Toddlers And Preschoolers
1. Punk Rock Preschool — Letter H is for House
H is for house in this video from Punk Rock Preschool. All you need is some colored construction paper and you and your child can make this fun craft together.
2. All Kids Network — Horse Paper Craft
In this short tutorial, clocking in at under three minutes, All Kids Network shows parents and kids how to craft a paper horse while learning about the letter H. There are further instructions in the YouTube description box.
3. Creative Craft Box — Helicopter
Learn all about the letter H while crafting a bright and colorful paper helicopter with your little one. Creative Craft Box has a quick and easy how-to below.
4. Punk Rock Preschool — Letter H is for Horse
Another fun tutorial from Punk Rock Preschool, this time kids can learn about the letter H while crafting a paper horse. Neighhhhh!
5. Art For Kids Hub — How to Draw a House
Art For Kids Hub is a favorite on YouTube…and for good reason! Their how-to videos are easy and fun for both kids and parents. Teach your kids about the letter H and then learn to draw a house.
6. Art For Kids Hub — How to Fold an Origami Heart
Another sweet tutorial by Art For Kids Hub, this time families are learning how to fold an origami heart. You'll love this one…promise!
7. Kids Activities — H is for Hippo
Easy peasy, this video from Kids Activities on YouTube clocks in at under thirty seconds. You can make this huggable hippo from materials you keep on hand in your art cabinet.
8. Punk Rock Preschool — Letter H is for Heroes
The third time's a charm and Punk Rock Preschool has made it on our list magical number three times today. In this tutorial, kids are learning all about the letter h while crafting their favorite superhero! What could be better?
9. Kids Drawing Ninja — How to Draw a Helicopter
This how-to-draw a helicopter tutorial is both quick and fun. Kids may need a little help from a parent or caregiver, but it's an exciting way to supplement your lessons while learning all about the letter H.
10. Red Ted Art — Paper Heart Origami
Here's a different variation on the paper origami heart. Red Ted Art brings us a simple how-to and all you need is paper in the color of your choice!
11. Draw So Cute — How to Draw a Horse
Here's another one kids may need a little help with. We couldn't help but include it though because it's so adorable. Draw So Cute shows us how to draw a darling horse!
12. Kidspot — Popsicle Stick Harmonica
If you're looking to explore music with your kids, this popsicle stick harmonica is the perfect place to start — simple to make and requires few materials. What a fun way to learn about the letter H!
13. Trace Your Hand
This is definitely one of the more straightforward crafts on this list, but it's just as educational. Allow each child to trace their hand and cut it out. They can decorate it however they want but include a lesson on how hand starts with the letter H, and discuss what they use their hands for. They can only list activities that start with an H. For example, helping, holding hands, or hive fives. See how many they can come up with!
14. Humpty Dumpty Surgery
Kids love a good puzzle, so give them the chance to solve one on their own using the classic storybook klutz, Humpty Dumpty. Have each child cut an oval/egg shape out of white paper. Then tell them to rip their cutout into six to seven pieces. Using tape or bandaids, have your kid put Humpty Dumpty back together again by attaching those pieces to a sheet of paper.
15. Happy Faces
Each smile is unique and usually caused by happiness. Challenge your child to draw a happy face without using markers or crayons. They can use cotton balls, glitter, leaves, or whatever they can come up with. The goal is to make a unique smile. This is a great way to encourage your kid's creative mind and put a smile on both of your faces.
This article was originally published on