Marvelous Letter M Crafts For Toddlers And Preschoolers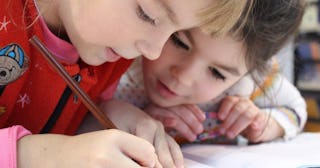 klimkin/Pixabay
Teaching a toddler or preschooler their letters — it's a challenge for every mom. The thing is…it doesn't have to be. Kids learn when they're having fun. Let them get a bit messy and explore the world around them. You don't need fancy craft supplies or expensive toys. Stock your art cabinet and toy box with a few open-ended materials. Then, step back and watch the magic happen. It's not all about free play though. The occasional parent-guided activity can help introduce or reinforce academic skills your child needs to know for kindergarten: letters, numbers, and shapes…oh my! If you need a few ideas for working on the alphabet or teaching kids to read, check out our letter M crafts below. And when you're through, be sure to take a peek at our letter A, B, C, D, E, F, G, H, I, J, and L craft pages too. Let the fun and games begin!
Here are a few handy tips for teaching your child their ABCs.
Read early and often. Start the habit of reading to your child when they're a teeny tiny baby and keep it up even as they enter elementary school and begin to read on their own. Reading aloud offers so many benefits — parent-child bonding time, social-emotional awareness, expanded vocabulary, increased comprehension, and longer attention spans.
Get some letter magnets for the fridge. This inexpensive toy will keep your kiddo occupied while you're in the kitchen and you can easily point out letters and sounds as you go about your daily routine. Meal prep and teaching your tiny tot their letters? At the same time? Yes, please!
Watch TV together. Not what you thought we'd say, amirite? There are so many awesome educational shows out right now for toddlers and preschoolers. No matter what cable company or streaming service you subscribe to, there's something for everyone. Turn on Word World on PBS Kids or Mickey Mouse Clubhouse on Disney+ (or any of the multitude of shows with an emphasis on letter learning), and instead of using it to keep kids entertained while you're prepping dinner or hopping in the shower, take 15 or 20 minutes and watch together. Studies show that when parents and kids are co-viewing — or, watching together — that kids retain the information better than if they were watching alone. It's the perfect excuse to snuggle up together on the couch and leave the dishes for later.
Easy Letter M Crafts for Toddlers and Preschoolers
1. M Is For Mouse — All Kids Network
Nibble, nibble…serve up some tasty cheese with this sweet little letter M mouse activity from All Kids Network. Snacks and crafts — what more could a kid want?
2. How To Make A (Not So) Scary Monster — Creative Craft Box
If your child is scared of monsters under the bed at night, this is the perfect activity to dispel those (totally rational!) fears. Not only are they going to learn the letter M, but they'll also learn that monsters aren't so scary when they're made from colored paper! Round craft time out with popcorn and a movie — Monsters, Inc. anyone?
3. M Is For Monster — Kids Activities
Here's another monster craft, this time from Kids Activities on YouTube. Like the one above, it's not scary at all. In fact, this little guy is kinda cute!
4. How To Draw A Monkey — Art For Kids Hub
Art For Kids Hub has an awesome parent-child tutorial on how to draw a monkey for toddlers and preschoolers. Stop monkeying around and check it out here!
5. Easy Origami Mouse — Red Ted Art
This activity may require the help of a parent or caregiver, but it's a fun way to learn all about the letter M — an easy origami mouse from Red Ted Art. Another crafternoon art project that pairs perfectly with a side of cheese. Yum!
6. How To Make A Self Portrait — Sesame Studios
From Sesame Studios, this activity isn't a letter M craft in the traditional sense. Rather, it's an opportunity for creative expression. We included it because it involves looking in a mirror to draw or paint one's own self-portrait. Talking about the letter M for mirror would be a fun way to tie in letter learning with a brand new art project to frame and hang on the wall.
7. How To Draw A Milkshake — Art For Kids Hub
With warm weather approaching, now is the perfect time of year to enjoy a cold, creamy milkshake. Heck, who are we kidding?! Any time of year is the perfect time for a milkshake! Turn letter learning into a yummy lesson (we seem to be on a snack kick today!) and treat your kiddo to a milkshake after completing this drawing tutorial.
8. Dance Monkey — Kidz Bop
Not your traditional letter activity, but what better way to get your kids up and moving (and learning!) than with a catchy tune? Once you've danced out your wiggles, help them write the letter M and draw a monkey on blank paper. If you need a little help, check out the video linked above from Art For Kids Hub. They've got an excellent monkey tutorial, perfect for tiny hands!
9. M&M's M Making
M&M's are not only yummy snacks but can be incredibly educational, too. Print out cutouts of the letter M. Then have your child glue M&M's onto the letter. Your kids can even color-code their Ms by using one color for each M. Feel free to use clusters of color if you don't have enough candy. This is a great way to teach your child about the letter M using a bunch of little Ms. Then, when they're done with the project, they can eat the leftover candy.
10. Marble Mural
Combine your child's love for art and marbles into one activity. Dip a few marbles into different colors of paint. Then place a blank piece of construction paper onto an aluminum tray. Next, drop the marbles into the tray and let your child move them around to get the marbles rolling. When they're done, remove the marbles and check out their artwork.
11. Carboard Maze
Does your kiddo love puzzles? How about mazes? All you need is a bunch of cardboard boxes, tape, markers, and an awesome route in mind. In some boxes, cut out holes so your child can crawl through different passages. Tape the boxes together by their openings and create as many twists and turns as you please! And when you're done making the maze, decorate it with markers or glitter.
This article was originally published on