Get On The Road To Reading With Our Collection Of Letter R Crafts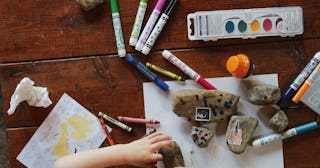 Sigmund/Unsplash
Is your child showing signs of reading readiness? How will you know when it's time to teach this crucial life skill? If your child can read their own name, recite the alphabet, or retell a story in their own words, they might be ready to learn to read. One of the first steps in teaching your child to read is making sure they can identify letters and the sounds they make. Lucky for you, we've rounded up a collection of top-notch letter R crafts to get you started. When you've made it through these, be sure to check out our letter A, B, C, D, E, F, G, H, I, J, L, M, N, O, and P craft pages too.
Nervous about teaching your child to read? Don't be. You taught them to walk and talk. You can teach them to read too. It's important to remember that learning to read is a process. There's no need to rush it. In the meantime, it doesn't hurt to start working on the building blocks of literacy — including letter recognition. The letter R activities below will help you do just that. Bonus: arts and crafts are awesome for sensory play and fine motor skill development!
OK, onto the letter R crafts. Let's get started.
Letter R Crafts for Toddlers and Preschoolers
1. R Is for Rabbit — All Kids Network
It's your lucky day. Go ahead and break out your rabbit's foot (oh wait… wrong decade!). If you're looking for a simple craft-tivity to supplement a lesson on the letter R, hop on over to YouTube and check out this quick and easy rabbit tutorial from All Kids Network.
2. How to Make a Letter R Racetrack — Kids Activities
Vroom! Vroom! Start your engines and zoom on over to the Kids Activities channel for a how-to guide on making this rev-tacular racetrack out of the letter R.
3. How to Draw a Rainbow — Art for Kids Hub
Rain, rain, go away. Come again some other day. If you sing this childhood favorite every time it rains, we're right there with you. While rainy days are a part of life, we look forward to sunshine and rainbows at the end. Looking to add a little color to your day? Check out this rainbow drawing tutorial from Art For Kids Hub on YouTube.
4. Easy Rabbit Craft Tutorial — Creative Craft Box
Paper? Check. Scissors? Check. Glue? Check. A few basic art supplies and a handy how-to guide from Creative Craft Box; that's all you need to craft the afternoon away with your baby bunny. Hop on over to YouTube for more!
5. How to Fold an Origami Rose — Art for Kids Hub
Want to learn the secret to a beautiful floral arrangement that never dies? Paper flowers! Art For Kids Hub has an easy instructional video on how to fold paper roses for any occasion. Teach kids all about the letter R while crafting something pretty — no green thumb necessary.
6. The Letter R Song — Have Fun Teaching
An oldie but a goodie, the Letter R Song from Have Fun Teaching is sure to get your little one off the couch and up on their feet. Before you know it, they'll be movin' and groovin' to the beat. Repetition and rhythm are key when it comes to helping letter names and sounds stick. After the video, have your child sit down and paint the letter R on colored paper. This activity promotes both fine and gross motor development while encouraging creativity. Wanna hear the best part? It's fun!
7. How to Draw a Robot Using Shapes — Art for Kids Hub
If you're looking for an exciting way to supplement a lesson on the letter R while encouraging STEM learning, look no further. Parent-child duo, Art for Kids Hub, has a robot drawing tutorial your tech-savvy tot is gonna love.
8. DIY Racecar
Does your kid live their life in the fast lane? Help them fill their need for speed (and learning the letter R) by helping them make their very own race car. For this hot rod, you'll need popsicle sticks, chop sticks, a hot glue gun, bottle caps rubber bands. Not only is this a lesson in letters but a great way to spark the little engineer in your child.
More Letter R Crafts to Try
9. Rattlesnake Rattle
Rattlesnakes are probably one of the most interesting and dangerous reptiles out there. Show your kiddo how to make their very own rattle using a small glass jar, fabric, beads, glue, and gems. Fill the jar up with a handful of beans and, after you close it, wrap it in the fabric until it's a small ball-like structure. Staple and hot glue the fabric in place so it doesn't unravel. Then decorate it with gems for some razzle-dazzle.
10. Raccoon Handprint Mask
Trace your hands on black construction paper. Then cut each of them out and glue the ends together by the bottom of the palms. Once they're attached, glue a popsicle stick to the middle of it. Make two holes in the center of each hand for the eyes. After it dries, add more pizzazz to your mask with glitter, stickers, or whatever you like!
This article was originally published on