An Open Letter To Restoration Hardware Baby&Child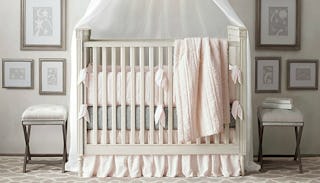 Restoration Hardware
Dear Restoration Hardware:
As a consumer goods company, I have to imagine you value market feedback about your products.
I recently received the latest edition of your baby&child catalog.
My, it is stunning, so chic and luxe. And weighing about the same as the average full-term newborn, the content sure is extensive.
After turning each super-fabulous page that made the paper stock of my holiday cards feel like unadulterated sandpaper accented with flecks of glass, I do have a few questions for you.
– First and foremost, how do you feel about your employees drinking on the job? I ask because it's clear—after looking at your prices and then making an optometry appointment to have my prescription checked—that your marketing team is probably hitting the bottle. Big time. Possibly with a side of hallucinogenics.
– I'm also curious about where, exactly, you conduct your focus groups. Is it in a hermetically sealed luxury pod in Beverly Hills? Or perhaps at the Spelling Mansion? Or on the set of The Real Housewives franchise?
But of course I can't look away. It's like a car crash—made of custom tufted silks.
And so I'll admit, I did have my eye on a few specific items that I'd like to discuss with you.
Let's start with this nursery. Although I am personally finished with this phase of my life, it's clear that you have a captive market on the hunt for some fresh ideas.
This was an eye-opener for me. All this time, I thought that my taste was more of the sensible/everyday/shabby chic (minus the chic) variety, but I see that I have been overlooking the "Royal Infant, Salute to Will and Kate" theme. Very interesting, indeed. Just a few questions, though:
– Now, do you find it odd that this crib costs more than the monthly rent on my first Manhattan apartment? No? Maybe it's just me.
– If my kid's personal butler is away on vacation when my order arrives, will you help us set it up? Or is concierge service extra?
– Why not add a clothing line to the mix? We simply can't have an informally dressed babe residing in such a space. Would a child dressed in a Target onesie, in fact, burst into flames upon entry to such a room? One has to wonder.
– That's genuine lead crystal on the ceiling lamp, right? Yep, the one within the reach of a toddler standing up in the crib. I was just trying to figure out the depth of the flesh wound a child might encounter from those pesky glass-to-skin punctures.
Moving on to the lighting department. So many choices!
Personally, I find this line to be a relief. Because, first of all, I was really worried about having the proper formal lighting scheme under which my young children can see which variety of Goldfish they are eating. It's also critical for tea parties to have as much crystal as humanly possible in the room. And—bonus!—it works well with my son wielding light sabers all over the house.
Again, just a few follow-up questions before I proceed with my order:
– Can I place these on hold long enough to speak with my insurance company about putting additional personal liability coverage on our homeowners policy?
– How is the child in the photo adjusting to the clear lack of furniture in her room? I mean, does she know that her parents blew all their cash on light fixtures and that's why she has to sit on a pillow and store her silk-bound novels on the floor? She looks like she's taking it in stride, although the padded walls give me pause. Is she OK? Or is she writing in that journal about what will prove to be years of pent-up resentment? Maybe just keep an eye on her. Because I'm getting a Flowers in the Attic: Orange County vibe here.
Finally, thank you for resolving a major issue that has been pressing on my mind: What furnishings can I buy to help my kids relax?
Well, now I am breathing a huge sigh of relief. Were it not for your Vintage Cigar Leather Sofa, my kids would have to suffer the indignities of sitting on adult-sized furniture to unwind after a long day of playing. Where else would they plan their global travels like this young gentleman? I mean, I can't just have them sitting on the floor while watching Disney Junior.
Plus, the leather is ideal—I can just brush off most food and drink spills—not to mention blend in anything that a stray marker may leave behind. Truly, this is a lifesaver. And, priced at just under $2,000, the practicality of it really hits home. How the hell have we been getting by without this?
You know what else I've really been missing? Like most moms of toddlers, I find that the time-out seat in my house gets a lot of mileage. But how do I ensure that my child is really getting the message?With the Orbit Spitfire Chair, of course.
Here, my errant child will be forced to sit in a self-contained pod while plotting his next move. And he'll know I mean business because I did not spring for the velvet seating option here. Hell, no. He will be slumming it in the base-level upholstered model that does not come with the optional built-in speakers. How's that for sending a message?
Last night, I finished thumbing through your catalog. But I must say that this been an education—not only in decor but in home equity loans as well. I can only hope that you will begin issuing seasonal editions so that I have new decor aspirations at my fingertips on a rolling basis throughout the year.
Finally, let me offer my congratulations. Your latest line manages to make Pottery Barn Kids look reasonable and prudent, with bargain basement pricing. That's no small feat.
Thanks in advance for addressing my concerns. If you start manufacturing strollers that will surely outperform my 2010 car, please put me on your mailing list straight away.
I must be the first to know.
This article was originally published on