Mom Who Lost Son To Drowning Urges Parents To Enroll Kids In Swim Lessons
by Julie Scagell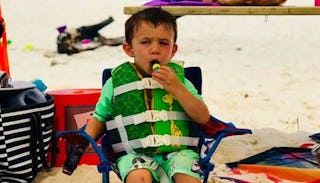 Image via Nicole Hughes
The AAP recommends swimming lessons beginning at age 1 to reduce the risk of drowning
Nicole Hughes is living through the unimaginable — the loss of her child. Her son, Levi, drowned last summer during a beach vacation with his family and friends. Since that time, the Hughes family has fought tirelessly to ensure this doesn't happen to someone else's child by sharing his story and their desire for every family to have "water guardians," and the importance of survival swim lessons.
RELATED: 9 Best Infant & Toddler Pool Floats With Built-In Sun Canopy For Chillin' By The Water
Hughes said last April, she and her husband discussed swimming lessons for Levi, who had just turned three. Levi's older sisters learned how to swim at three, but they weren't sure Levi was ready. "Then, in this moment that was the beginning of the end, I said- 'Let me check the policy on swim lessons.' Based on that policy and the lack of toddler options in our area, we decided to wait until Levi turned 4," Hughes wrote in a heartbreaking Facebook post. "6 weeks later, I pulled his lifeless body out of a pool."
"How could I have known that every parent's worst nightmare would be my reality? It happened so quickly. I don't know how Levi got away from us as we were cleaning up from dinner, or what lured him to go outside alone. I was the one who found him, face down, in the deep end. Just moments before this horrific discovery, I split a brownie with him. I still had the other half of the brownie in my mouth when I jumped into the pool to grab my son," Hughes wrote last year. That's how fast it can happen.
Since that time, Hughes has implored every parent she knows to enroll their toddler in swimming lessons. But not just any swim school: "Please enroll your toddler in the RIGHT swim lessons, ones that focus on water competency. "SURVIVAL" is the goal. If your child can "swim" but only WITH a flotation device, that is not swimming," she continued.
The American Academy of Pediatrics recently updated their guidelines, recommending starting swimming lessons around one year of age to reduce the risk of drowning.
Safety experts say the lessons need to focus on teaching children basic water skills and water safety. The recommendations also say that all children should learn how to swim and children and teens need to wear life jackets when they're near bodies of water.
Drowning is one of the leading causes of death in children — nearly 1,000 deaths in the U.S. each year are caused by drowning. It only takes seconds for it to happen to a child, and it often occurs in just seconds, before adults even realize it's happening. "Drowning is the #1 cause of death for ages 1-4; many in that age group cannot swim. These two factors have to be connected," Hughes says.
Advocating for water safety isn't just about Levi, Hughes tells Scary Mommy. "I have always believed in a shared human experience, and I can't imagine sitting back while more children's lives are snatched by this silent killer. Now, I look at my children and know with certainty that their lives have been impacted for the better from parents who lost a child before me to tragedy. Those parents climbed out of their own grief pits and advocated for better car seats, effective vaccines, safer sleep," she said. "We really are in this together, each of us as parents just doing our best every day."
Hughes and her family started Levi's Legacy, a memorial to Levi's life and a calling for other parents to assign "water guardians" so that kids always have supervision near water. Prevention is key and Hughes believes these guardians are "the best (and cheapest) way to keep children safe around water."
"I used to be a typical mom of 3 kids, forced to weigh every decision on time, finances, and my own parenting energy- which all seemed stretched too thin," Hughes concluded. "Time? Let me tell you about TIME, about this lifetime without my son, about every moment he isn't here, every bedtime kiss he will miss. You don't want this eternity of time that stretches before me."
This article was originally published on