I Want Friendships Like My 80-Year-Old Grandma Has
by Katie Cloyd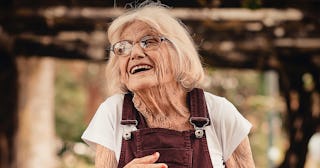 Edu Carvalho/Pexels
My grandmother, Genie, turned 80 in July. We had a beautiful party at a restaurant overlooking the ocean in the Massachusetts beach town where she lives. Family, loved ones, and lifelong friends joined together to celebrate her life, reminisce, eat lots of food, and sing karaoke. Scores more sent their best wishes despite their inability to attend. My grandmother said it was the time of her life.
Among the attendees was her friend, Annette. When I asked how my grandmother met Annette, she laughed. "We met in third grade!" They have known one another for seventy-two years, since the late 1940s. There they were, celebrating eight decades on this planet, and their lifelong friendship was closer than ever.
I have always known that my grandmother met some of her high school classmates for lunch occasionally, but I never asked her too many details about that part of her circle. When I realized that she had met a lot of those lifelong friends in elementary school, I was fascinated. I asked her to share more of her story with me.
I couldn't believe what I was hearing.
In 1957, my grandmother graduated from a small Catholic high school in Salem, Massachusetts. There were 30 people in her class. More than half of them had been schoolmates since kindergarten. They met in 1944, before the end of World War II, and stayed together until graduation.
Twenty of those 30 graduates are in still contact to this day. They have lost touch with only 3. The other seven have passed away.
There are 10 or 15 of them who still live locally, and that group meets for lunch every three months. My grandmother has been unofficially elected as their class organizer, and she keeps up with everyone and passes on the meetup information. If anyone has an emergency, a loss, or a need, she rallies the Class of '57 troops and makes sure the whole group is there to walk alongside them in their time of need.
Bertini's, the restaurant they frequented after high school football games, is still standing, so that's their venue of choice. Once in a while, a classmate from another graduating year pops in to join them. Even the nun who taught them at Catholic school joined in until her health declined too much for her to be able to attend.
For 75 years, these twenty people have chosen to stay linked by the bonds of childhood friendship. When I heard this, I knew I needed to know how they have made it happen. I asked my grandmother for the secrets of their lifelong friendship success. Her advice was simple.
Here's what she had to say.
1. They never judge each other.
Through marriages, divorces, physical and mental illness, legal trouble, bankruptcy, and every other kind of tough time, they support one another without wavering.
"We never assume we know what's best for each other," she says. "We just listen. Even if we can see that a friend is making bad choices, unless they are in danger, we don't interject. When those bad choices end in heartache, we never say, 'I told you so.' There's no reason for it. They feel bad enough without their friends making it worse."
2. They drop everything for each other.
These lifelong friends have supported each other through every phase of life. They were there for all kinds of triumph and joy. They've celebrated everything from the winning shot in the championship basketball game to wedding vows and new babies.
They've been there for the worst of it, too. From childhood bullies and high school heartbreak, to child loss, divorce and widowhood, these lifelong friends have been there for it all.
My Memere recounted the following story: "Last summer, one of the girls called me crying. She told me she was struggling. I called a few of the other girls, and within hours, we had all cleared our schedules, and we were headed to Annette's lake house for a Ladies' Weekend. We had other plans, but nothing was more important to any of us than saving our friend's sanity and making her feel loved. We stayed up until the middle of the night, laughing like we did when we were kids. That weekend was what she needed."
3. They don't let time or distance become an excuse to lose touch.
If my grandmother travels close to where a former classmate lives, she is going to call them to get together for lunch. End of story. Even if they haven't seen one another in 30 years, they're going to get together and catch up, and that's non-negotiable.
A few years ago, we traveled to South Carolina for a family vacation, and my grandmother tracked down a classmate she hadn't seen in about 20 years while she was there. When her work took her to Florida, she took extra vacation days and visited a classmate in Tampa.
My grandmother lives back at home now, but she has lived all over the country over the last few decades. No matter what, she made the luncheons and her lifelong friendships a priority. She drove or flew in to attend.
If any of the out-of-town classmates come back to their hometown for a visit, the gang gets together for an extra luncheon so they can all be together.
4. They let their friendships naturally evolve, choosing to do whatever it takes to keep things between them happy and peaceful.
They all feel that life is too short to have a falling out. Since they have gotten older, they have chosen to stop having lively debates about topics that can become explosive quickly, and they don't want to waste a minute on anger.
"The older we get, the less important it feels to fight those fights with each other," she says. "Our generation isn't running the world anymore. This is a time in our life where we need to have fun and cherish each other. We know we won't live forever. We are lucky to have lifelong friendships. Of course, we still verbally spar and tease each other, but we avoid getting truly angry at one another. We don't have time for that anymore."
It's clear that they don't take one another for granted. They know they're lucky that most of them have lived long lives and are still healthy today. They have spent every part of their lives with one another, and they want to be there until the very end.
I hope when I'm 80, I'll have the kind of lifelong friendships she enjoys. I know following her simple but beautiful advice is a good step in the right direction.
This article was originally published on